No Changes In Snow Forecast Super Bowl Sunday
Very Cold Into Tuesday Morning Before Warmup Begins

No Changes In Snow Forecast Super Bowl Sunday
Very Cold Into Tuesday Morning Before Warmup Begins

There are no important changes in the outlook for Snow on Super Bowl Sunday. More on that shortly. Meanwhile today was a very nice day indeed and it warmed up nicely and above the NWS forecast highs indicated this morning. Lots of low 60s showed up on the high temperature map with distinct feeling of spring getting closer. We have one more day of this warm weather before winter settles for one last visit (at least for now) before the pattern flips for awhile later next week.
SATELLITE

WEATHER RADAR

The radars are quiet here but the arctic front is triggering some rain and snow showers to the northwest as it bursts on the scene. That front doesn't get here until later Saturday so there is plenty of time for some sunshine to take temperatures up to the upper 50s and lower 60s many areas. We think the front comes through dry with no weather issues.
The front stalls to our south and a wave develops on it while the upper trough providing support moves east. Our snow is actually being generated by the upper trough and not the offshore storm. You can see the separation between the two and that prevents this from becoming a major snow storm. Instead the upper trough will generate patchy areas of steady snow and we still think that it will be on the order of a coating to a few inches.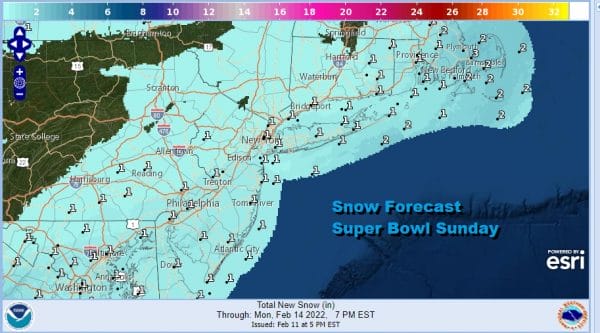 Some of the afternoon weather model runs were a tad more robust with the snow but we didn't think it was enough to nudge the numbers higher so for now we leave things as they are from the earlier forecast. Snow arrives around or just before daybreak and then ends in most places during the afternoon or evening from northwest to southeast. Temperatures Sunday will be settling in the 20s especially once the snow gets underway. A very cold night follows as skies clear. Monday morning lows will be in the teens with single digits inland and highs just in the 20s Monday afternoon in spite of a good deal of sunshine.
One last cold night Monday night into Tuesday morning and cold air leaves, and a warm up ensues. Some sunshine Tuesday will take highs to the mid and upper 30s. We will be in the 40s Wednesday. Then as winds turn more southerly and start to increase Thursday especially late in the day we will turn our attention to a cold front. Look for highs Thursday at least in the 50s to near 60 away from the ocean. Some heavy rain and gusty winds will be in the forecast for Thursday night into Friday and then weather conditions will improve afterwards. Arctic air will remain cut off for awhile as all the action shifts out of the Eastern US and into the Rockies and West Coast.
Please note that with regards to any severe weather,  tropical storms, or hurricanes, should a storm be threatening, please consult your local National Weather Service office or your local government officials about what action you should be taking to protect life and property.