No Advisories Are Up But Watch for Some Glazing Inland New Jersey
& Southern New England

No Advisories Are Up But Watch for Some Glazing Inland New Jersey
Hudson Valley & Southern New England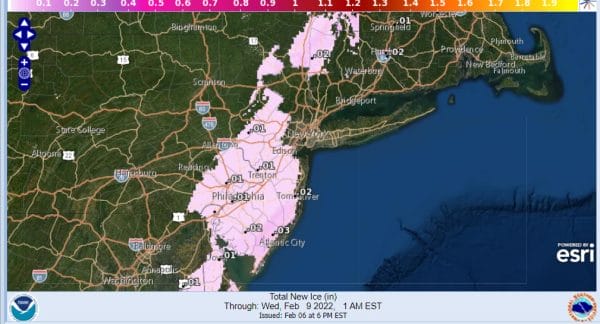 We don't have winter weather advisories up for anyone in our area but this is one of those situations where if precipitation however light it is going to be comes in fast enough tomorrow morning, there could be a glazing of ice. The ground is very cold from the weekend temperatures and if we stay clear for awhile tonight, cold spots are going to see their temperatures drop. It could be a situation tomorrow morning where the air temps will be rising faster than ground temperatures so be advised and exercise caution. You may think it is raining but it will freeze on cold surface. Snow is not an issue this time around.
SATELLITE

WEATHER RADAR

Skies are mainly clear on the satellite with just some patchy clouds around here and there. Temperatures are in the 20s and we will likely hold in most places except for the usual spots that like to drop given the chance in cases like this. Clouds will roll in late tonight.
You can see the precipitaion that runs out ahead of the main low to the south. The loop goes from 1am Monday to 1am Tuesday. The low develops offshore and it could bring some heavier rain to Long Island and Southern New England Monday night before it all ends. Notice the rain cuts off just near the Pennsylvania New Jersey border.  Weather conditions will improve on Tuesday and the rest of the week looks quiet. We have another cold front on Thursday with not much weather with it other than clouds and maybe a shower when it goes by. Temperatures will be plus or minus a degree or two of average this week. No storms are on the horizon at least heading into next weekend.
Please note that with regards to any severe weather,  tropical storms, or hurricanes, should a storm be threatening, please consult your local National Weather Service office or your local government officials about what action you should be taking to protect life and property.