Nice Weather Weekend Next Chance For Showers & Thunderstorms Tuesday

Nice Weather Weekend Next Chance For Showers & Thunderstorms Tuesday

We are enjoying a very nice day across much of the Eastern US ourselves included. Sunshine dominates from Maine to Northern Florida and the radars are quiet. Potential tropical cyclone 1 is moving off the Florida east coast and the heavy rains and flooding in South Florida should abate later today. While this system still may become a tropical storm it will be moving offshore and out to sea passing north of Bermuda Monday. In the meantime we will be dry and nice. Highs this afternoon will be in the upper 70s and lower 80s with comfortable humidity. Radars are and will remain nice and quiet.
SATELLITE

WEATHER RADAR

High pressure to our west and south will take its time moving out to the east and that is good news in that it keeps cold fronts away for at least a few days. Skies will be clear tonight with most lows in the 50s. Most lows tonight will be in the 50s with 40s in some cool spots inland. Sunday will be partly to mostly sunny. There might be a few patchy high clouds in the afternoon as a warm front sets up well to our north and west.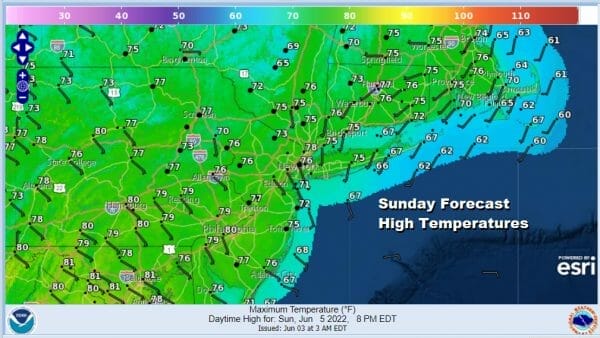 Winds Sunday will turn to the southeast but it will be around the dry high so the air will be mostly dry. Temperatures Sunday will top in the middle to upper 70s though it will be a few degrees cooler at the coast. Monday won't be much different with sunshine and a south southeast wind. Most highs Monday will be in the range of upper 70s to some lower 80s and a few degrees lower at the beaches.
The next cold front approaches Tuesday. There is a good chance that much of Tuesday will be okay with some sunshine and warm with higher humidity. Highs will be in the upper 70s and lower 80s  The front could produce some showers and thunderstorms Tuesday night, more inland than coast. Then the front gets hung up as we wait for another wave to develop on it. That puts us at risk for showers and thunderstorms later Wednesday and Wednesday night. After that another system approaches for next Friday and that means we could get into some rain later Friday into Saturday. Low pressure looks to develop in the Ohio Valley and head to our west into Upstate NY. This could also open the door for some severe weather in the Mid Atlantic states but this is just early speculation. What we can say for sure is that no hot weather is in store for our area this week and with weather systems for now moving with regularity every couple of days, it won't be able to get hot (above 90 degrees) for the week ahead at least and perhaps a little beyond that timeframe.
Please note that with regards to any severe weather,  tropical storms, or hurricanes, should a storm be threatening, please consult your local National Weather Service office or your local government officials about what action you should be taking to protect life and property.