Nice Weather Sunday Halloween Dry Showers Tuesday

After a chilly and in some cases cold start this Sunday is going to be a nice day of sunshine finishing off what is a great weekend of weather.. Some inland areas had another round of frosts and freezes but we should see temperatures warm up into the 60s today. We will have lots of sunshine as the satellite loop shows most of the Northeast and Northern Mid Atlantic free of cloud cover. Enjoy the day and I hope you enjoyed the weekend. The radars are obviously nice and quiet.
SATELLITE

WEATHER RADAR

Tonight won't be a chilly with clear skies and perhaps some passing clouds. Some areas inland especially in cooler valleys could wake up to some fog Monday morning. Most lows will be in the 40s to around 50. Monday is Halloween and we do see the next weather system coming out of the Southern Plains and heading to the northeast.
There is an upper high along the East Coast which is going to cause this weather system to weaken as it moves northeast. We probably won't see anything of consequence Monday during the day, and that leaves us in a day that should probably be no worse than partly sunny. Temperatures will be rising and we could see highs in the mid to upper 60s.
We are going to throw in the chance for some showers Monday night and Tuesday but it will by no means be anything continuous and the bulk of whatever moves through will be overnight into early Tuesday morning. The rest of the day will just feature clouds and some here and there scattered showers with highs in the 60s.
The rest of next week looks to be quiet and on the warm side of statistical averages. A high sitting offshore to the East and a new high will build southeast into New England.  That should leave us in a day of sunshine and that will take highs Wednesday into the upper 60s and lower 70s.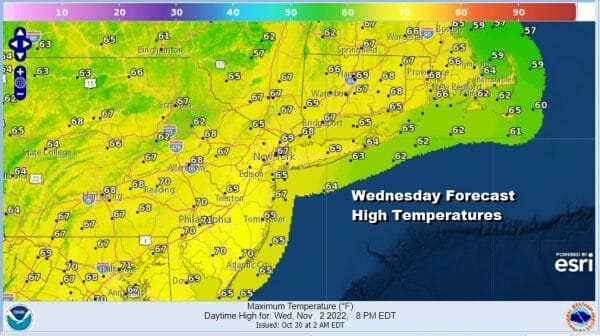 Thursday and Friday look pretty much the same. After a nights of clear to occasionally partly cloudy skies and lows in the 40s to lower 50s, both days should feature nothing worse than partly sunny skies. Highs both Thursday and Friday will be in the 60s.
An early view of next weekend looks to be on the dry side as another back door front moves southeast with little if any precipiation. The overall pattern in the medium and long range looks to be dry with not much if any rainfall over the next 10 days or so. There is also an absence of major or even minor storms. Enjoy the quiet times ahead.
Please note that with regards to any severe weather,  tropical storms, or hurricanes, should a storm be threatening, please consult your local National Weather Service office or your local government officials about what action you should be taking to protect life and property.