Nice September Weather Into The Weekend
Rain Sunday Night Early Next Week

We have seen improving weather conditions today. We do have some patchy clouds around this afternoon but we also have some sunshine. Dry air is slowly making its way into the Northeast and Middle Atlantic states and temperatures this afternoon will be in the upper 70s to around 80 degrees. Hurricane Earl is approaching Bermuda and then will turn to the northeast. Earl offshore is helping the cause of bringing dry air into the Eastern US and that should last into the weekend.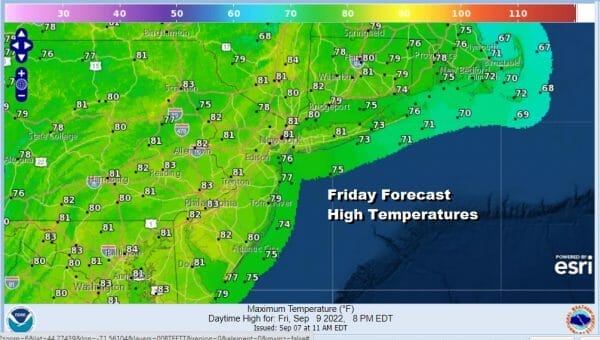 Skies will become mostly clear tonight with lows in the mid 50s to lower 60s. Friday looks to be a mostly sunny day. Highs will reach the upper 70s and lower 80s with humidity levels on the low side. Along the coast at the beaches we will probably start to see increasing wave action with early out in the Atlantic so look for rough seas developing and rip currents in case you are shore bound.
September is known for its beautiful days and the weekend looks to be rain free for most of it at least through the daytime Sunday. High pressure will still be in New England and along the coast Saturday giving us a nice sunny day with highs reaching the lower 80s. Cooler 70s will be prevelant along the shore.
Sunday the high moves offshore and we will begin to see low pressure head to the Lower Great Lakes. Skies should be partly sunny at least to start the day but there might be some scattered showers or a thunderstorm late in the afternoon or early evening inland. Highs will be in the lower 80s.
The Gfs model is in a bit of rush again in bringing rain to the coast by Sunday evening. We think the slower European makes a little more sense. Ridges offshore have trended to be stronger than advertised so this should buy us a few extra hours of rain free weather Sunday afternoon. We will see  rain move in during Sunday night and some showery rains will be around Monday into the afternoon before the warm front goes by. The cold front will take its time moving east so there still be some clouds and showers around Tuesday and possibly Wednesday but we don't see it as being all day type rains. It could be rain free more often than not Tuesday and Wednesday.
Please note that with regards to any severe weather,  tropical storms, or hurricanes, should a storm be threatening, please consult your local National Weather Service office or your local government officials about what action you should be taking to protect life and property.