Nice Dry Sunday Monday Heat Humidity Severe Weather Risks Tuesday

We are at the second half of the weekend and today areas that were cloudy and rainy yesterday which was mainly from South Jersey southward will join the rest of Eastern Pennsylvania to Southern New England in gorgeous blue sky and sunshine. Humidity levels are low with dew points down in the 40s and lower 50s.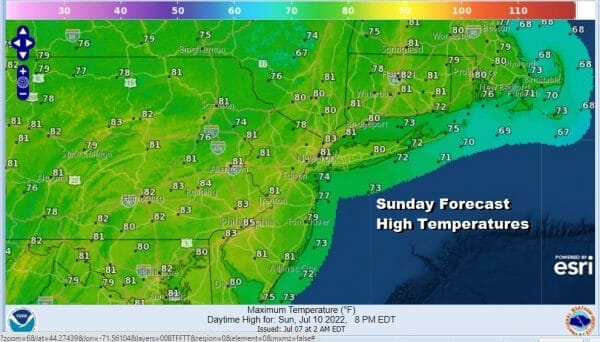 Temperatures this afternoon will be in the pleasant upper 70s and lower 80s. Skies are clear on the satellite loop and the regional radar is showing showers from Virginia eastward and offshore but that is all moving east and not coming northward.
SATELLITE

WEATHER RADAR

Tonight will be nice and clear with low humidity. Lows will be in the low to mid 60s along the coast and in warmer urban locations and 50s inland. Monday will be another day of reasonable humidity but temperatures will be headed higher as we reach the low and middle 80s. We will have plenty of sunshine as high pressure settles along the Mid Atlantic coast.
Tuesday and Wednesday will be the two hot days this week. We also have an upper trough that will be approaching late Tuesday and Tuesday evening which opens up the possibility of severe weather. The main risk area will be inland across Pennsylvania to Northwest New Jersey, the Catskills, and points northward.
it will also be the type of front where the timing favors storms inland and then they weaken as they near the coast. The coastal areas have a marginal risk for an isolated severe thunderstorm. As for high temperatures Tuesday will see readings reaching 90 to 95 degrees in most areas.
Wednesday will still be hot with a cold front moving through. Most highs will be in the upper 80s and lower 90s with some sunshine. The front will pass through but there may not be much energy left for the front to work on so we will just mention the chance for an isolated shower or thunderstorm.
Another dry air mass arrives behind Wednesday's cold front so Thursday into Saturday will be dry and sunny with low humidity or at worst reasonable humidity before we have the next cold front with showers and thunderstorms arriving late next Sunday. One downside in this pattern is the lack of rainfall and that continues with below average rainfall all of next week. Even with thunderstorms forecast, rainfall amounts in general will be under a quarter of a inch in most areas this week.
Please note that with regards to any severe weather,  tropical storms, or hurricanes, should a storm be threatening, please consult your local National Weather Service office or your local government officials about what action you should be taking to protect life and property.