Nice Dry Saturday Rain Develops Sunday Week Ahead Outlook

The Thanksgiving holiday weekend continues and this will be the best of the two weekend days. We have yesterday's weather system well to the northeast and pulling away. The next weather system shown above is still a day away so that leaves us between the two and in a day of sunshine. Temperatures today will do quite nicely and reach the low and middle 50s everywhere.
Later today we will likely see some high clouds showing up on the satellite loop well to our west but these clouds should hold off until overnight. Meanwhile the radar are all quiet today and tonight with no issues. Clouds will increase later tonight with most lows in the low to mid 30s inland and closer to 40 coast and warmer urban areas.
SATELLITE

WEATHER RADAR

Sunday low pressure that today is in the Lower Mississippi Valley will be heading northeastward to the Great Lakes and eventually into Eastern Canada early Monday. The approaching cold front will head east. Rain develops from southwest to northeast during Sunday as the day wears on and then exits Sunday night from west to east as the cold front passes.
As for temperatures on Sunday we will see warmer air come up the coast so most highs will be in the mid 50s to perhaps near 60 in some places. Rainfall amounts will be on the order of a half to three quarters of an inch in most areas. The fast moving system will keep amounts in check.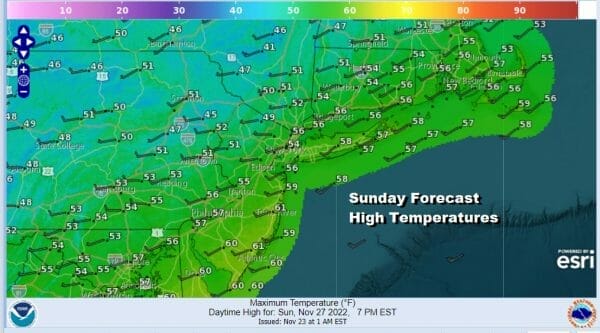 The pattern continues to favor weather systems to move from west to east on a regular basis and this is the second of 3 weather fronts that we are experiencing. Once this system moves offshore we will see improving weather conditions with a gusty breeze and some developing sunshine though there will be some clouds in the mix too.
Most highs Monday will be in the low to middle 50s with the exception of some inland areas well north and northwest of the big cities where highs will be in the upper 40s. It will turn colder Monday night leading us to a nice but cold day Tuesday with sunshine and most highs just in the 40s.
Wednesday brings about the next weather system and again we have a low coming out of the Southern Plains and heading for the Eastern Great Lakes and Eastern Canada. It is another warm front cold front combination coming with rain developing later on Wednesday and lasting into Thursday morning before ending. Weather conditions will likely improve as Thursday wears on with a gusty wind developing. Colder air does come in on the back side of this system.
Wednesday highs will be in the mid 50s to some lower 60s but Thursday we will see temperatures at least 10 degrees colder with most highs just in the mid to upper 40s. Nights will be cold with lows dropping to the 20s and lower 30s by Friday morning.
We should finish off next week with some sunshine for Friday with less wind and highs in the 40s. Enjoy the rest of your holiday weekend.
Please note that with regards to any severe weather,  tropical storms, or hurricanes, should a storm be threatening, please consult your local National Weather Service office or your local government officials about what action you should be taking to protect life and property.