A RETURN TO NICE AUTUMN WEATHER WEDNESDAY & THURSDAY
RAW RAINY CONDITIONS FRIDAY INTO EARLY SATURDAY
COLDER WEEKEND, MORE ACTION NEXT WEEK
We have a nice dry air mass that has built into the Northeast this morning and this is going to with us through Thursday with nice autumn weather. Skies are clear on the satellite loop this morning and we should see a good deal of sunshine today.
Temperatures are going to be nice and  seasonal today as the map shows with highs in the mid 50s to some lower 60s. Overall a good day indeed. Radars are nice and quiet and should remain the case right into Thursday night.
EASTERN SATELLITE

REGIONAL RADAR

Tonight's lows under clear skies will range from the mid 30s inland to the mid 40s along the coast. Thursday will be nice and sunny but a little cooler than today with most highs in the upper 40s and lower 50s. Again there are no weather issues forecast through Thursday night.
The next low will be coming out of the Gulf States Friday and heading up the west side of the Appalachians while a coastal low develops on a warm front to the south. This sets us up for a raw rainy Friday especially in the afternoon into Friday night with temperatures just in the 40s to lower 50s. Much like what happened yesterday we will see the low try and go by and cold front come through Saturday morning early with some showers before weather conditions generally improve. Saturday we will see some sunshine developing with highs in the 50s but Sunday will be quite chilly with sunshne and highs just in the 40s.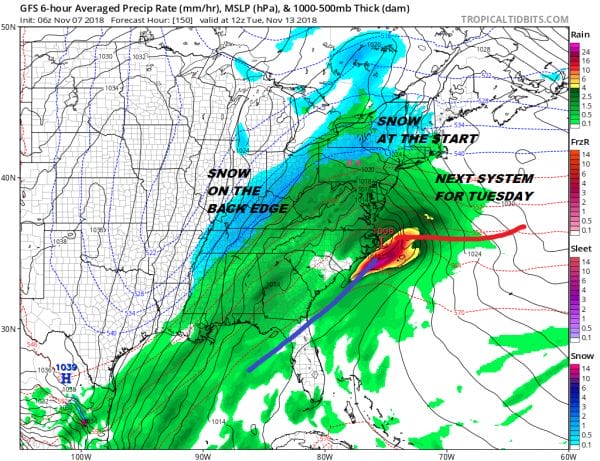 We will be setting up for another weather system coming up the coast with a cold rain developing here later Monday and a cold rainy Tuesday is in store with low pressure moving up the coast. This comes as very cold air is diving into the Great Lakes and Ohio Valley  and some of that cold air will move east. It looks like this system could produce quite a bit of rain and the first snows of importance for the interior northeast at least. Weather models continue to adjust and we will also as we move forward with this active weather pattern.
SUBSCRIBE TO PATREON FOR A WEATHER EXPERIENCE FREE OF ADS, EXCLUSIVE VIDEOS FOR MEMBERS ONLY AND MUCH MORE…STARTS AT $2 A MONTH..MESSAGE ME AT ANY TIME

MANY THANKS TO

TROPICAL TIDBITS

FOR THE USE OF MAPS
Please note that with regards to any tropical storms or hurricanes, should a storm be threatening, please consult your local National Weather Service office or your local government officials about what action you should be taking to protect life and property.
LATEST JOESTRADAMUS ON THE LONG RANGE