DOWNLOAD MY NEW FREE JOESTRADAMUS WEATHER APP FOR ALL DEVICES
THE APP IS ABSOLUTELY FREE TO ALL BUT CONSIDERING SUBSCRIBING TO PATREON FOR A WEATHER EXPERIENCE FREE OF ADS, EXCLUSIVE VIDEOS FOR MEMBERS ONLY AND MUCH MORE…STARTS AT $2 A MONTH..MESSAGE ME AT ANY TIME
Next Storm Likely To Underperform Higher Amounts South
Last night's underperforming weather system was a victim of the precipitation never really developing overhead which is always a risk. Weather models performed poorly with this particularly the short range models which just never had a good handle on it. They all overdeveloped all the precipitation over New England down to our area. The result was little snow, some sleet and glaze, and that was just about it. It wasn't even enough to measure. Now we are on to the next one for Wednesday and here too we expect underperformance.
EASTERN SATELLITE

REGIONAL RADAR

On the way there we will clear out tonight with colder air coming in. By morning we will be down in the upper teens and lower 20s. Tuesday will be a nice sunny but it will be cold with highs in the middle to upper 30s. Then another cold night follows Tuesday night with mainly clear skies here with lows in the teens to low 20s.
While we are clear and cold snow breaks out across the Middle Atlantic states. The situation rhymes with last Tuesday BUT there is an important difference and that is the position of the high which is much further south and east. The result is cold air wedges southward in the Middle Atlantic states when precipitation arrives. However the high will slow the northward advance as it slides out to the southeast. The cold air then erodes rapidly and the area of snow actually shrinks as it moves northward.
The NAM model in my view is completely overdone with the snow area by the time it reaches New York City & Southern New England. That makes the snow maps produced by the model even more ridiculous. Of course they are flying across social media. These people never learn.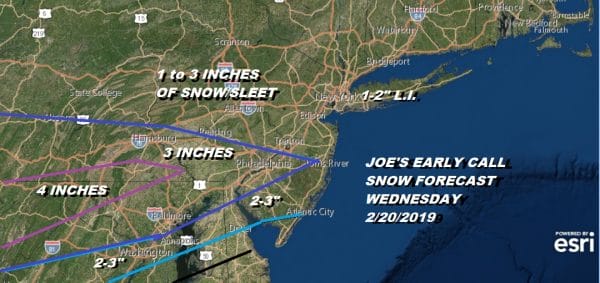 My early call is looking more like a best case scenario outcome and I would not be at all surprised to see these numbers come down even lower especially from New Jersey to Southern New England. A case can be made for the snow area to shrink down to almost minimal by the time it makes it up here. Dry air is holding it back longer and that is not good for a snowy outcome. We will stay with this for now. Notice that we are not going that high in areas to the south where the cold air will be around when the precipitation arrives early Wednesday morning. Regardless of amounts it all changes to rain.
The GFS is even less bullish with this as it holds snow off until Tuesday evening and by then there is no cold air left. It rains into early Thursday and weather conditions improve after that with some afternoon sunshine and highs in the 50s.
It will turn a little colder for Friday and Saturday but we will see some sunshine both days. Highs will be in the 40s. Then it will be cloudy and rainy next Sunday as another low heads to the Great Lakes. As for those of you grasping at straws in the long range….good luck to you. While we could see a colder pattern in early March as the trough in the west disappears for a few days, guess what? The cold at best brings things back to seasonal and probably won't last much beyond the first week of March.
MANY THANKS TO

TROPICAL TIDBITS

FOR THE USE OF MAPS
Please note that with regards to any tropical storms or hurricanes, should a storm be threatening, please consult your local National Weather Service office or your local government officials about what action you should be taking to protect life and property.