Next Coastal Storm Looks Offshore For Now
Next Coastal Storm Looks Offshore For Now
After 2 fierce storms in the last week and a half it is rather understandable that everyone's radars are up regarding the possibility of a third storm impacting our weather. We are still recovering from the wind damage and snow inland from the first one, the very heavy snows up to 2 feet from the second, and the coastal flooding from both, a third storm right now would not be a good thing at all. What we can say at the moment is that it appears the third storm will develop into another powerhouse but it will be far enough offshore where the impact will be minimal but I would caution everyone that there are a lot of moving parts to this puzzle and we need another day or 2 to really be conclusive on this.
EUROPEAN MODEL MONDAY MARCH 12TH 2018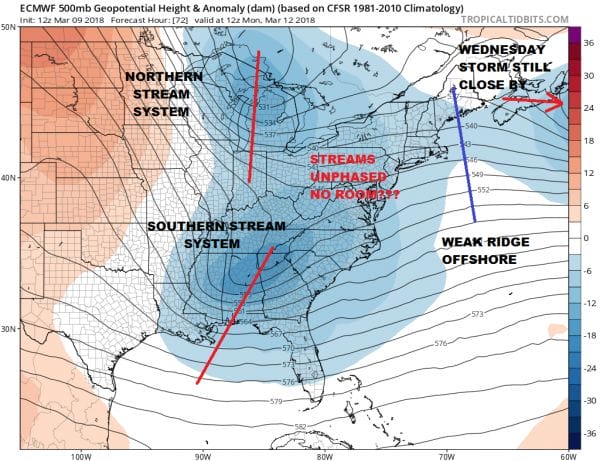 Wednesday's storm is still lingering between Nova Scotia and New Foundland which limits the amount of room for the next system to the west and south. If the old storm were a little further east it might open up some room for the two upper air systems to the west and south to phase, or at least phase enough to allow the southern stream developing low to move up the coast. Models continue to suggest that there won't be enough room. The Canadian model today tries to somewhat phase the systems to the west to create a close call for coastal areas.
Next Coastal Storm Looks Offshore For Now
Canadian Model Tuesday March 13, 2018
We will be watching model trends closely over the weekend. I can't imagine this phasing to the point where this would be another widespread snowstorm however if enough room develops it could increase the chances for snow for coastal areas. The Canadian suggests a grazing for the immediate coast while the other models keep it all offshore. Since that last minute westward shift has been a player all winter long, we can't rule it out at this point. Of course the NAM will be front and center once it comes in range. In the meantime no issues through the weekend and probably for the first part of Monday. It will be chilly this weekend for the time of year but at least the sun will be out to melt away more of the snow cover.
SHOP THE JOESTRADAMUS STORE
MANY THANKS TO TROPICAL TIDBITS FOR THE WONDERFUL USE OF THE MAPS
GET JOE A CIGAR IF YOU LIKE!
FiOS1 News Weather Forecast For Long Island
FiOS1 News Weather Forecast For New Jersey
FiOS1 News Weather Forecast For Hudson Valley
NATIONAL WEATHER SERVICE SNOW FORECASTS
LATEST JOESTRADAMUS ON THE LONG RANGE