New Years Eve Quiet Rain Saturday Into Sunday Sharply Colder Early Next Week

Weather in 5/Joe & Joe Weather Show Latest Podcast
New Years Eve Quiet Rain Saturday Into Sunday Sharply Colder Early Next Week
The last day of 2021 is here and I think that we can say from the standpoint of weather that it is great to see this year finally coming to an end. We saw a number of extremes this year and the standouts to me are the devastating rainfalls from Hurricane Ida back in September and the severe weather/tornado outbreak in mid November which produced 8 tornadoes across Long Island and Southern New England. There were other extreme heavy rain events over the summer and fall too numerable to mention. Finally it is the last day and we are going out with no rain and just a lot of clouds. We could see some breaks of sun through the clouds this afternoon in some places as highs reach the low and middle 50s.
SATELLITE

WEATHER RADAR

Except for clouds and a little scattered light rain or drizzle there are no weather issues tonight for the arrival on the New Year. Then we can move on the New Years Day where we do have issues. Low pressure moves out of the Southern Plains heads to Western NY/Western Pa. A warm front lies just to the south and we see rain arriving by Saturday morning and continuing on and off into Sunday morning.

This is the first of two lows moving through the East this weekend. The second is going to form on the southern end of the cold front that moves through Sunday morning. The GFS has been trying to show a robust low bringing another round of rain and maybe some snow Sunday night into Monday morning. We have been arguing all week against that idea and that the rain would just shut off and it will be windy cold and dry later Sunday into Monday and I think ultimately that is where we are going here.
The GFS is still trying to hold on here on today's runs after backing off overnight. I don't see any other model doing anything of consequence so I'm not all that concerned. Rainfall for Saturday into Sunday will total on average about 3/4's of an inch with maybe some locally higher amounts possible in a few places where we get a little bit of heavier convection.
Colder air comes in once the second storm moves offshore and we will see that happen Sunday night into Monday with gusty winds. Monday will be the coldest day of the winter season so far with most highs just in the low to mid 30s and wind chills making it feel like it is in the 20s. We haven't seen a day like this since last February.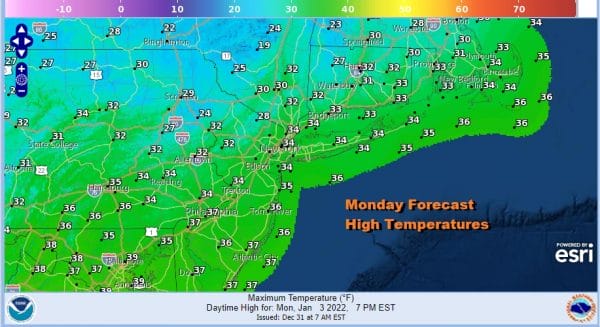 We have been seeing signs that the overall pattern of December is coming to an end and a new pattern is emerging across North America. What that pattern will be is hard to say at this point but the deep trough in the west is going away and a trough setting up the east seems to be taking over during the next 2 weeks. What that ultimately leads to I'm not quite sure yet but I think it is possible that winter weather loves could see some snow chances in the weeks ahead.

Please note that with regards to any severe weather,  tropical storms, or hurricanes, should a storm be threatening, please consult your local National Weather Service office or your local government officials about what action you should be taking to protect life and property.