New Week Begins Cool Ocean Winds Warming Up Into Midweek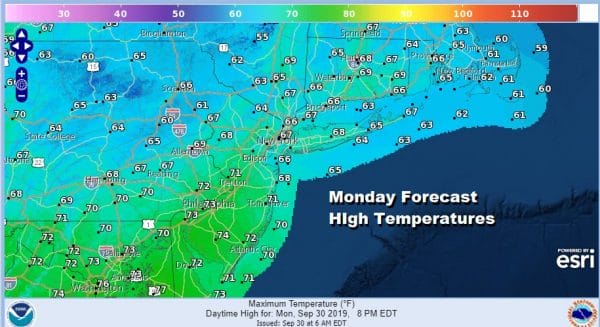 The onshore flow from the high to the north has settled in for today. This will keep us in an east wind and some sunshine with highs mostly in the 60s to 70 at best. Two things at work today are the ocean wind which in areas north and east of NYC will keep things cool with partly sunny skies. Further south more clouds will be around with the chance for a few passing showers as we can see some on the radars this morning.
SATELLITE

REGIONAL RADAR

Regional radar is showing an area of rain in Southwestern Pennsylvania moving southeastward and we are also seeing some scattered showers in Southeastern Pennsylvania moving southeast. This is closer to the developing warm front that separates the cooler 60s to the north and the seemingly endless days of 90 degree plus highs that continues across parts Ohio Valley and Southeastern US.
LOCAL RADAR NEW YORK CITY
LOCAL RADAR PHILADELPHIA

The showers heading east should weaken though a few could survive into Eastern Pennsylvania and possibly into parts of Western and Southern New Jersey today but they should be light and scattered in nature. Otherwise it is clouds and some sun. From NYC north and east it is partly sunny with no shower risk as stated earlier.
Warmer temperatures are on the way for Tuesday and especially for Wednesday as winds turn more south and then eventually to the west by Wednesday. Tuesday will be partly sunny with highs reaching the mid 70s to lower 80s. Then Wednesday the heat will be on for the day as a cold front pushes southward. There could be some afternoon or evening scattered thunderstorms as the cold front comes through. Highs will be in the mid 80s to lower 90s with cooler temperatures along the immediate shore.
This front will be setting us up for some showers on Thursday as it stalls and backs up ahead of low pressure moving across the Great Lakes and upstate NY. One more wave needs to get through here and Thursday actually gives us the chance for some widespread showers that could be somewhat productive rainfall wise. Highs Thursday will be in the mid 60s to lower 70s. However from Southern New Jersey south and west we will be warmer with highs still reaching into the 80s there.
This still ultimately gets us to a very cool finish to the week and the weekend. Some sunshine should return on Friday with a gusty breeze and highs just into the 60s. The weekend will be chilly with nighttime lows in the 40s everywhere and highs by day for Saturday well will be in the upper 50s and lower 60s. The weekend looks dry though winds will turn on Sunday with increasing clouds and highs in the 60s. Monday sees another front with a good chance for showers. Highs will be in the 60s to near 70 before it turns cooler again behind that front. The new pattern does seem to bring weather fronts through every couple of days with the chance for some much needed and wanted rain in the longer term.
MANY THANKS TO

TROPICAL TIDBITS

FOR THE USE OF MAPS
Please note that with regards to any tropical storms or hurricanes, should a storm be threatening, please consult your local National Weather Service office or your local government officials about what action you should be taking to protect life and property.