Some strong thunderstorms are moving across southern portions of Brooklyn and Queens and heading into the south shore of Nasssau County. This thunderstorm complex has produced strong winds heavy rains and cloud to ground lightning. It continues to move eastward into Long Island. Check the latest radar below and any warnings that may be issued.
The temperature reached 90 degrees in Central Park at 12:26 PM. This makes for the second heatwave this month (three or more days with temperatures reaching or exceeding 90F). This is the first time on record in NYC with two separate heatwaves in the month of September. I wish they went back to the old rule which was 5 days above 90 but the new rule is 3 and 3 it shall be,
Looking back on the climate data there are a number of Septembers that saw lots of 90 degree days including 1983 which had 7 and 1961 which had 8. 1898 and 1895 had 6. Here are some more fun facts. New York City has hit 90 degrees 20 times this summer and that isn't even in the top 10. The latest 90 was October 17th 1938. As for the longest heatwave the string is 12 back in 1953 and that was a late summer heatwave from August 24th to September 4th.
Today's record is 94 but it doesn't look like we are going to get there as the temperatures actually went down to 89 at 2pm and it isn't likely to jump 6 degrees between now and 4pm. This is not July.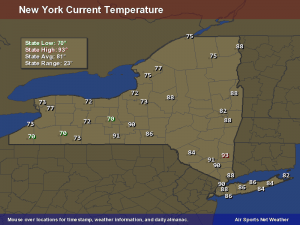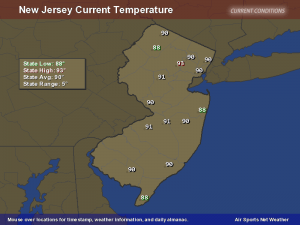 Looking ahead this is the last 90 degree day for the time being as we have our cold front set to come through and produce rain for Thursday so we may actually see the first day in nearly 2 months where the high doesn't reach 80. Longer term the ridge in the east is forecast to come back late next week.
This looks to hang around for Wednesday through Friday of next week so another visit to the 90 degree mark is not impossible depending on clouds of course and the wind direction. At least temperatures for the next 5 days or so will be near or a little above normal again depending on cloud cover and wind direction so we do have a shot of making it 3 heatwaves in September if everything breaks right..or in some cases if you don't like heat, breaks wrong.