New Jersey Weekend Outlook Saturday Dry Sunny Nice, Sunday Cloudy Rain Develops PM
Friday October 21, 2022
The weekend is here and it will be a 50-50 weekend in New Jersey. The easy part of the forecast is Saturday where we have high pressure still hanging on from the northeast and that will mean a day of sunshine and temperatures will respond nicely by heading for the upper 60s to perhaps near 70 degrees in some places. That pretty much takes care of the easy part of the forecast.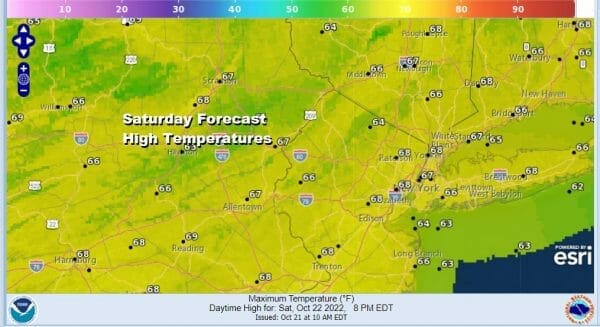 Saturday night offers no issues. We will have clear skies give way to arriving clouds from the south. Sunday morning lows will be in the mid 40s to lower 50s Now comes the tougher part and that is Sunday. Low pressure is forecast to develop off the Southeast US coast and move northward. The low seems not as strong as shown just a day or two ago but there will be an area of rain that will move northward.
How far
west the rain gets is a question. I think the rain cuts off somewhere near the Pennsylvania New Jersey border leaving those areas with more clouds than anything else. To the east there will be an increasing chance for rain especially near the coast. The rain should move from south to north. It is nothing particularly heavy mind you, just a nuisance light rain is likely to be the outcome Sunday morning in South Jersey and then reaching Northern NJ sometime Sunday afternoon. Temperatures Sunday will be mostly in the low to mid 60s.
Some rain will continue Sunday night and perhaps briefly spread further west but by Monday morning we will likely see just some lingering showers or some patches of light rain and then we could see some slow improvement later in the day. Rainfall amounts look to be on the light side with less than a quartr of an inch or even less than a tenth of an inch to the west and higher amounts of a quarter to a half inch along the coastal and northeastern counties.
Please note that with regards to any severe weather,  tropical storms, or hurricanes, should a storm be threatening, please consult your local National Weather Service office or your local government officials about what action you should be taking to protect life and property.