New Jersey Hottest Day of the Summer So Far More Heat Storm Risk Thursday


New Jersey saw its hottest day of the summer so far with many areas hitting the mid to upper 90s. There were some local thermometers that hit the 100 degree mark but we will wait to see what the official reporting stations come up with for the highs today. Either way it was a brutal day. There are no thunderstorms around as we have mostly cloud free skies on the satellite and the radars are quiet.
SATELLITE

WEATHER RADAR

Tonight will be a very warm and humid night with lows in the 70s to around 80 in the warmer urban areas. Thursday will be a repeat of today with highs again reaching the middle and possibly the upper 90s. The one issue that may hold it down slightly is an approaching cold front. That could trigger some thunderstorms late in the day.
The Storm Prediction Center is indicating some severe weather risk for Northern New Jersey and points northeastward but only a general thunderstorm risk elsewhere in New Jersey. We will watch to see what materializes on the radars Thursday and we won't rule out the chance for an isolated severe thunderstorm anywhere in the state.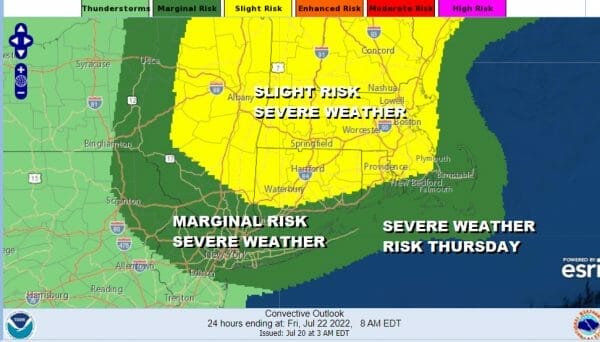 The cold front isn't much of a cold front since it will be just as hot behind the front as ahead of it. We might get a slight drop in the dew points Friday but it will still be hot and rather humid with sunshine. Highs will reach the low and middle 90s. More of the same is forecast for Saturday and Sunday but Sunday brings a higher chance for thunderstorms as another slightly stronger cold front arrives late in the day.
Please note that with regards to any severe weather,  tropical storms, or hurricanes, should a storm be threatening, please consult your local National Weather Service office or your local government officials about what action you should be taking to protect life and property.