New Jersey Heatwave Hits Peak Sunday 100 Degree Highs Probable
Severe Weather Risk Monday
We had a another brutally hot day over New Jersey with highs in the upper 90s. Newark hit 101 for the 4th 100 degree day in a row. Somerville hit 101 with Mount Holly topping at 100. Vineland in South Jersey hit 104 as the state's hot spot. It was desert heat today with relative humidity levels in some areas under 20 percent. Sunday however will be more humid and just as hot if not hotter. There will be a widere range of 100 degree highs Sunday afternoon in North and South Jersey.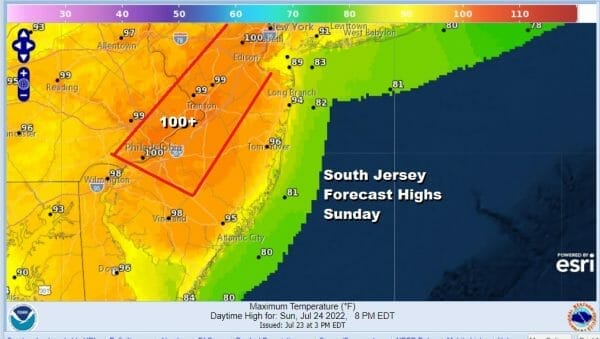 Monday will be the last day of the heatwave. It won't be as hot with most highs between 90 and 95 thanks to more clouds and even higher dew points. The cold front will set off thunderstorms in the afternoon and evening and the Storm Prediction Center has all of New Jersey in a slight risk zone for severe weather. Monday highs will be in a range of 90 to 95 degrees so Sunday should be the last day of 100 degree plus highs.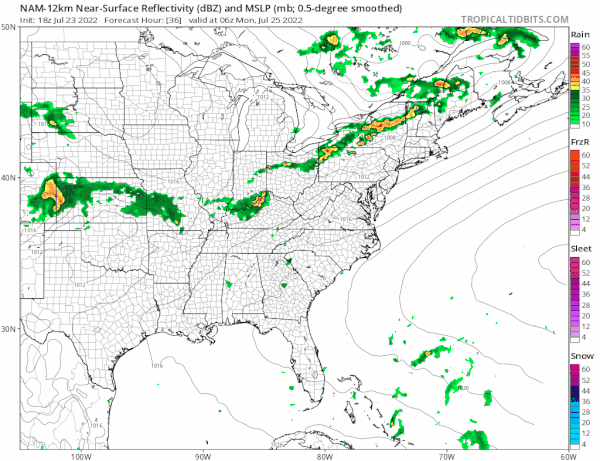 This cold front will break the heat wave once it passes. This will bring in lower humidity and lower temperatures Tuesday and Wednesday with highs in the 80s and dew points in the 50s. This will be followed by another cold front on Thursday so we will turn hot and humid ahead of that front but this time only for the one day.