New Jersey Heatwave Continues 100 Degree Highs Saturday Sunday

The heatwave continues and New Jersey is probably getting hit harder with heat than other surrounding areas. Sunday is shaping up to be the hottest day of this heatwave and it may very well be the hottest day of the month and the summer season. We see a good chance for highs reaching above 100 degrees in the Northeastern New Jersey counties especially those that surround the dense urban areas of Newark and New York City.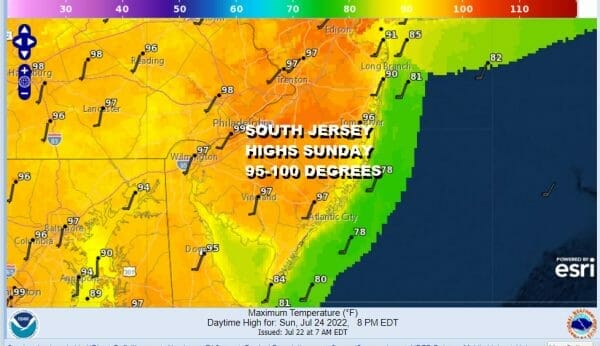 South Jersey highs will be every bit as hot and humid with areas reaching 100 degrees for highs and most of the area will see highs in a range of 95 to near 100 degrees. Areas near the warmer urban areas of Trenton to Philadelphia have a shot at reaching 100 degrees. The Jersey shore will be the place to be this weekend where local sea breezes will take hold and most highs at the beaches will be in the 80s to near 90 degrees and then settling lower in the mid to late afternoon.
SATELLITE

WEATHER RADAR

As for today we will see sunshine with highs in the low to mid 90s. There is the risk for some scattered thunderstorms late today into tonight with severe weather risk on the Pennsylvania side of the NJ state line. Saturday thunderstorm activity will be isolated and the state will be dominated by sunshine and highs in the mid to upper 90s. Areas near warmer urban locations have a shot of hitting 100 degrees Satuday afternoon.
Please note that with regards to any severe weather,  tropical storms, or hurricanes, should a storm be threatening, please consult your local National Weather Service office or your local government officials about what action you should be taking to protect life and property.