New England Storm Provides Cold Shots
New England Storm Provides Cold Shots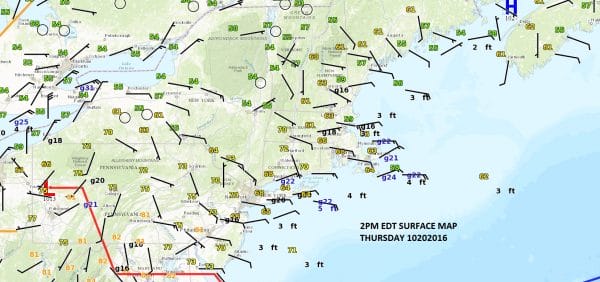 What a difference a day makes when you have an onshore wind. This afternoon's 2pm surface map shows this quite well. In areas where yesterday we saw record highs in the mid to upper 80s, we are seeing an onshore flow and clouds with temperatures in the upper 60s to lower 70s. That's still 10 degrees above normal but no records are being set today. The satellite loop shows lots of showers well west and north of us and that will continue overnight into Friday. Those showers won't shift eastward until later in the day Friday and Friday evening. Once again how much of the shower activity survives remains to be seen. Some will but much of the area won't see a whole lot of rain.
Off the Southeast US Coast near the Bahamas you can see the broad low pressure area is developing. Reconnaissance aircraft did not find a well defined circulation but if you look closely you can see that some convection is beginning to wrap around the surface low east of the Bahamas. This still has some time to become a tropical or subtropical storm before it moves northward up the east coast and gets absorbed by a developing non tropical storm that will bring some much needed rains to New England Friday night and Saturday.

In the short range, not much happens other than clouds and temperatures in the 60s tonight. Friday as we get into the warm sector we should see temperatures back into the 70s. Some showers are likely from later Friday afternoon into Saturday morning
Weather conditions will improve on Saturday but it will be windy with temperatures holding mostly in the 50s with lows in the 30s to low 40s Saturday night. Sunday will still be breezy with some sunshine and highs in the 50s. More reinforcing cold air arrives Monday and that could set us up for some freezes here Tuesday morning and Wednesday morning. It will also bring the first snows to parts of upstate NY and Northern New England on Saturday.
The National Weather Service's winter forecast is out and JOESTRADAMUS has his opinions about this.
WINTER WEATHER OUTLOOK VIDEOS
In case you missed them I've been previewing the upcoming winter in a series of posts and videos. Here are the first 2. More will be coming along. Links to the latest posts are below.
NEW JERSEY
LONG ISLAND AND NEARBY
WINTER 2016-2017 PART 3 NEW JERSEY
WINTER 2016-2017 PART 1 OCEAN WATER TEMPERATURES
WINTER 2016-2017 PART 2 ARCTIC SEA ICE AND SIBERIAN SNOW COVER
FiOS1 News Weather Forecast For Long Island
FiOS1 News Weather Forecast For New Jersey
FiOS1 News Weather Forecast For Hudson Valley
LATEST JOESTRADAMUS ON THE LONG RANGE
Weather App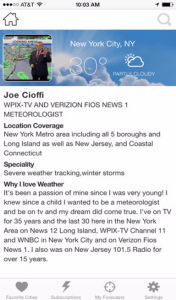 Don't be without Meteorologist Joe Cioffi's weather app. It is really a meteorologist app because you get my forecasts and my analysis and not some automated computer generated forecast based on the GFS model. This is why your app forecast changes every 6 hours. It is model driven with no human input at all. It gives you an icon, a temperature and no insight whatsoever.
It is a complete weather app to suit your forecast needs. All the weather information you need is right on your phone. Android or I-phone, use it to keep track of all the latest weather information and forecasts. This weather app is also free of advertising so you don't have to worry about security issues with your device. An accurate forecast and no worries that your device is being compromised.
Use it in conjunction with my website and my facebook and twitter and you have complete weather coverage of all the latest weather and the long range outlook. The website has been redone and upgraded. Its easy to use and everything is archived so you can see how well Joe does or doesn't do when it comes to forecasts and outlooks.
Just click on the google play button or the apple store button on the sidebar for my app which is on My Weather Concierge. Download the app for free. Subscribe to my forecasts on an ad free environment for just 99 cents a month.
Get my forecasts in the palm of your hand for less than the cost of a cup of Joe!
MENTION JOE CIOFFI AND GET A 5% DISCOUNT