New England Cool Air Arrives
PLEASE SUPPORT BREAST CANCER AWARENESS
New England Cool Air Arrives
High pressure has build down from Northern New England this morning which is why we are sitting here with temperatures in the 50s. We also have lots of clouds thanks to an onshore flow. Sometimes enough dry air pushes southward to force clouds down to the Middle Atlantic States and putting us in some sunshine and that  could happen today from north to south; first across Southern New England Connecticut & Long Island followed by NYC Hudson Valley & New jersey though it may take all day long for that to happen in South Jersey and Southeastern Pennsylvania. Temperatures today will be in the 60s. Radar does show some scattered showers this morning moving east and they should disappear soon as the dry air mass wedges its way southward along the coast.
SATELLITE LOOP

REGIONAL RADAR

LOCAL RADAR NEW YORK CITY
LOCAL RADAR PHILADELPHIA

It will be rather cool tonight in areas north and west of the coast as temperatures drop down into the 30s in areas inland across the Hudson Valley and interior Connecticut.  Some frost is possible in those areas.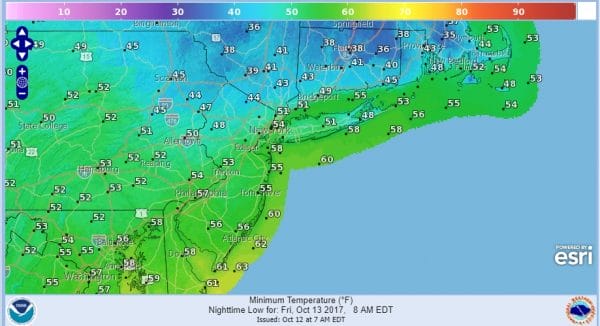 The onshore flow is going to be a bit stubborn to get out of the way. Friday will start with some sunshine before clouds arrive later in the day and some rain is possible Friday night into Saturday morning. Temperatures Friday will be in the 60s. We will transition over to a warmer air mass this weekend though it could be a bit of a struggle Saturday with clouds. Temperatures should get back into the 70s. Sunday looks sunny and warm with highs into the 80s before a cold front arrives and moves through at night. Then next week looks cool and seasonal with highs by day in the 60s and lows in the 40s. No big storms are on the horizon.

GET JOE A CIGAR IF YOU LIKE 
FiOS1 News Weather Forecast For Long Island
FiOS1 News Weather Forecast For New Jersey
FiOS1 News Weather Forecast For Hudson Valley
LATEST JOESTRADAMUS ON THE LONG RANGE