Near Record Highs Low to Mid 90s Back Door Front Heads Southwest
Severe Weather Risks Wednesday Thursday

Near Record Highs Low to Mid 90s Back Door Front Heads Southwest
Severe Weather Risks Wednesday Thursday
All the ingredients for hot temperatures are here today. We have a solid launching pad with morning lows in the upper 60s and lower 70s. A back door cold front stands out on the satellite view with that northwest southeast band of clouds in New England. That will be moving southwestward today. This will keep winds west or even northwest today and the sea breeze will be confined to the immediate beaches. Until the backdoor gets close this evening we will see plenty of sunshine. Highs just about everywhere will be in the low to mid 90s.
SATELLITE

WEATHER RADAR

There are some showers and thunderstorms with the backdoor front as you can see on the regional radar view but it is likely that most of those will not survive. However we are going to put in the chance for a scattered shower or thunderstorm late to day or this evening, mainly in upstate NY and New England though we can't rule it out for other areas in Eastern Pennsylvania to Southern New England. Tonight look for some patchy clouds with a wide range in low temperatures. Lows north and east of NYC will be in the upper 50s and lower 60s while south and west of Philadelphia where the front may not make it, lows will be in the upper 60s and lower 70s.
Backdoor fronts are always tricky because they really only deal with the bottom of the atmosphere. Sometimes they can move a little further south than advertised but for now we will stall the front out somewhere between NYC and Philadelphia and set things up that way as far as Wednesday's tempreature forecast is concerned. 70s to near 80 from NYC east with 60s at the coast seems plausible while from Philadelphia south and west it will be another day of highs in the upper 80s and lower 90s.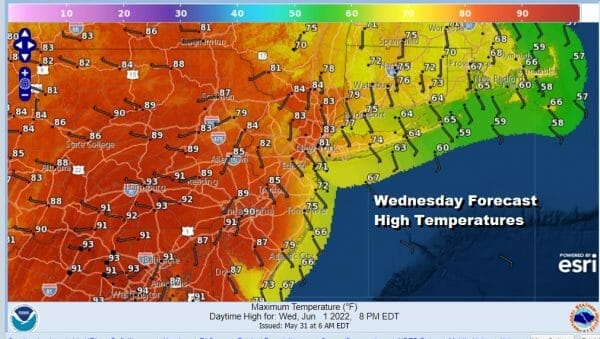 The wind will be more south southeast along the coast and in New England and that accounts for the cooler temperatures while on the other side of the front winds will still be mostly from the west. We also have a cold front approaching for Wednesday night and that will introduce the possibility of thunderstorms and severe weather and the NAM loop above shows a line of storms holding together and moving southeast Wednesday night.
The Storm Prediction Center in their overnight forecast has a marginal risk reaching Western New Jersey and the Hudson Valley with slight risk to the northwest in Northern Pennsylvania as well as Central and Western New York. Thursday the risk shifts south to Southern New Jersey and points south and southwest.
The Wednesday night cold front stalls to the south so it will be cooler to the north of frontal boundary with little if any thunderstorm activity while to the south of the boundary we have severe weather risk and very warm to hot temperatures for a third day. Highs will be in the upper 70s to mid 80s. Some showers and thunderstorms are possible Thursday night into Friday morning are possible as another cold front passes. Then it turns cooler and drier for Friday and for the weekend!
Please note that with regards to any severe weather,  tropical storms, or hurricanes, should a storm be threatening, please consult your local National Weather Service office or your local government officials about what action you should be taking to protect life and property.