HRRR Model Yawns On Rain Overnight
HRRR Model Yawns On Rain Overnight
Narrow Band Of Rain So Far Today
You know the drought is bad when all you can squeeze out is a narrow band of rain barely 20-30 miles wide with a tight inner band a few miles wide producing a quarter to a half an inch. If you are either side of this band you have gotten little or nothing so far.
Meanwhile to the south we have a developing gale center out in the ocean that is non tropical in nature and has run out of time in developing. It is moving steadily northward but some of the moisture is lifting north northwestward as the non tropical system begins to form just to the west and heads for the New Jersey coast. Heavy rains continue this afternoon across the western half of Pennsylvania and throughout much of Western and North Central New York State easing drought conditions there but doing it in a big way. All this rain around us but the prospects for anything substantial appears dim.

Much of what falls through a good portion of tonight will be showery in nature. At least through 7am Saturday the HRRR is a big yawn on rainfall amounts.
HRRR MODEL RAINFALL THROUGH 7AM SATURDAY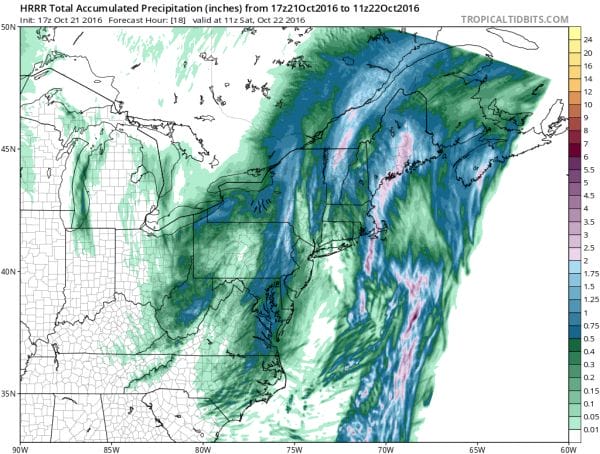 However the HRRR model is loading up a band of rain to the west by Saturday morning that hopefully produces something meaningful during the day Saturday.
HRRR MODEL SURFACE MAP 2AM THROUGH 7AM SATURDAY
WINTER WEATHER OUTLOOK VIDEOS
In case you missed them I've been previewing the upcoming winter in a series of posts and videos. Here are the first 2. More will be coming along. Links to the latest posts are below.
NEW JERSEY
LONG ISLAND AND NEARBY
WINTER 2016-2017 PART 3 NEW JERSEY
WINTER 2016-2017 PART 1 OCEAN WATER TEMPERATURES
WINTER 2016-2017 PART 2 ARCTIC SEA ICE AND SIBERIAN SNOW COVER
FiOS1 News Weather Forecast For Long Island
FiOS1 News Weather Forecast For New Jersey
FiOS1 News Weather Forecast For Hudson Valley
LATEST JOESTRADAMUS ON THE LONG RANGE
Weather App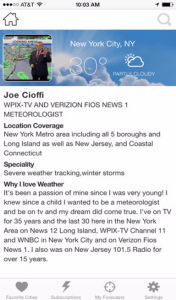 Don't be without Meteorologist Joe Cioffi's weather app. It is really a meteorologist app because you get my forecasts and my analysis and not some automated computer generated forecast based on the GFS model. This is why your app forecast changes every 6 hours. It is model driven with no human input at all. It gives you an icon, a temperature and no insight whatsoever.
It is a complete weather app to suit your forecast needs. All the weather information you need is right on your phone. Android or I-phone, use it to keep track of all the latest weather information and forecasts. This weather app is also free of advertising so you don't have to worry about security issues with your device. An accurate forecast and no worries that your device is being compromised.
Use it in conjunction with my website and my facebook and twitter and you have complete weather coverage of all the latest weather and the long range outlook. The website has been redone and upgraded. Its easy to use and everything is archived so you can see how well Joe does or doesn't do when it comes to forecasts and outlooks.
Just click on the google play button or the apple store button on the sidebar for my app which is on My Weather Concierge. Download the app for free. Subscribe to my forecasts on an ad free environment for just 99 cents a month.
Get my forecasts in the palm of your hand for less than the cost of a cup of Joe!
MENTION JOE CIOFFI AND GET A 5% DISCOUNT