Narrow Band of Snow Tonight into Tuesday Chilly Second Half of the Week

The  work week actually starts out with a nice weather day over Eastern Pennsylvania to Southern New England. Looming to the northwest are clouds and an area of snow that is moving across the Great Lakes today. That likely means that we will see some clouds arriving this afternoon. This system will be heading southeast tonight but at least we have a dry Monday. Highs will be in the mid 40s to around 50 degrees.
SATELLITE

WEATHER RADAR

We are starting to see precipitation show up on the regional radar way to the northwest on the upper left side of the loop. Low pressure in the Great Lakes is going to be moving southeast tonight and it will be off the coast of New Jersey Tuesday morning. It will also be weakening slowly as it moves southeast and this is going to likely limit snow amounts.
This loop is from 7pm tonight to 7am Tuesday morning and you can see how narrow this snow band is. It cuts off just to the north and northeast of NYC and to the north of a Philadelphia to Atlantic City line. Also while there could be some several inch amounts on the Pennsylvania side of the border, amounts will be much less in areas of Northern New Jersey to extreme Southeast NY/Long Island down to Route 195 in New Jersey.
We are talking about a coating to at most inch or so at most of accumulation. Perhaps some local amounts could be a little higher. This doesn't appear to have upside surprise potential. Temperatures over night will drop to the upper 20s and lower 30s. By daybreak this is long gone and some sunshine will develop with highs into the 40s and everything melts away rapidly.
Once this system is done we will see decent weather Wednesday, Thursday and through the dayside Friday. A gusty wind develops and Wednesday we will see some sunshine and some clouds. Highs Wednesday will be in the low to mid 40s which is right where we should be for highs this time of year.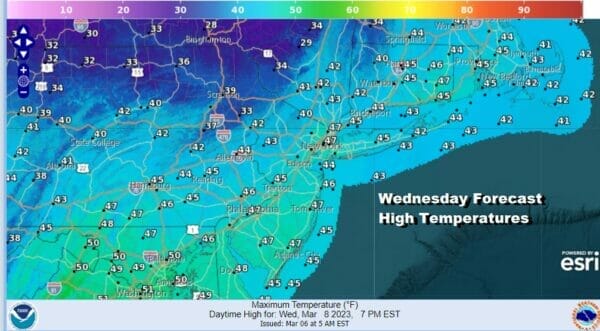 Thursday and Friday we will see sunshine both days with highs in the 40s to around 50. There will be some arriving clouds later Friday ahead of a storm system we will be dealing with over the weekend. There is some uncertainty regarding this system but right now it does not appear to be anything extreme. It is probably more likely that this system follows the same pattern of many systems this winter and that it will be either mostly a rain affair or a non event. This is how we see it that this stage of the game.
Please note that with regards to any severe weather,  tropical storms, or hurricanes, should a storm be threatening, please consult your local National Weather Service office or your local government officials about what action you should be taking to protect life and property.