First off with regards to the arrival of the cold front, the nam does not show much through this evening.Much of the shower and thunderstorm activity is well to the north and west of the area which really isn't too much of a surprise. The main action will come from the developing wave during the day Thursday and Thurday night and this seems to make the most sense.
What is encouraging with regards to rain is that the model does develop some very large patches of moderate to heavy rain and they seem to get enhanced during the day as the wave develops and gets going just to our south. There should be some local amounts in excess of 2 inches of rain if the model is correct.

It appears that the heaviest rain will fall over the eastern half of Pennsylvania New Jersey, New York City and points north and west as well as Connecticut and Southern New England. Long Island seems to be on the eastern edge of all this but I think it is close enough that even in areas that get less they should still wind up with a good inch or so of rainfall spread out over the course of the day. This should allow it to soak in nicely.
During Thursday night the model does want to take one batch of rain to the northeast while developing another area back over New Jersey. It is safe to say that this probably (and hopefully) a little underdone. By Friday morning much of this rain will have shifted eastward and weather conditions will begin to improve as the day wears on.
The model has been fairly consistent with rain amounts. In fact it has gotten a little more aggressive with the rain which is another good sign. We will see how the other models handle this as they come out later today. Im still thinking there should be another round of rain Saturday night into at least part of  Sunday. The model appears to be slower with the upper trough tries to develop another wave that will move up along or just inland of the coast.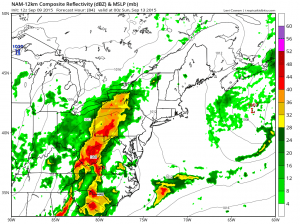 This look as more progressive than the other models which is a bit of a change. It might favor more rain than less under the right conditions if that trough doesn't fall apart. The over developed other models would argue that the heaviest rain would stay west. I might lean at this point toward a compromise between the two. The more rain we get, the better!
DOWNLOAD MY WEATHER FORECAST APP AND USE MY WEBSITE FOR ALL YOUR SHOPPING ESPECIALLY AS THE HOLIDAYS APPROACH!