NAM Model Moving Left (Again)
NAM Model Moving Left (Again)
300 mile shifts left to right are becoming commonplace lately. Overnight model runs went way to east (right). Now the dayside NAM model has shifted way to the west (left). How anyone is supposed to derive a degree of confidence with this is beyond me. But before we get to that look at the visible satellite loop below and you can see what a well defined cyclone this system is becoming. It is clearly taking on the look of a winter type non tropical cyclone but at the same time it probably retains some sense of a warm core. There is a cloud free center as well which makes it pretty easy to follow along.
Now take a look at the NAM model. The first map is the run from last night. The second map is the run from today. It is a monumental shift but the structure of the storm on today's run is different. It is not as deep as last night's and has a less tropical look to it.
NAM MODEL MOVING LEFT AND RIGHT LAST NIGHT'S 0Z RUN
NAM MODEL MOVING LEFT AND RIGHT TODAY'S 12Z RUN
The question is what do we make of this in terms of a forecast. Well frankly not much at this point obviously because we are going to wait and see what the global models do. But it could be an indicator regarding the fact that this hybrid like storm that is developing from Hermine may be something different in terms of the outcome. Models seem to be having a very difficult time with run to run volatility. By late Monday the NAM has back almost to just east of the North Carolina/Virginia Coastline and becoming tropical looking again!
NAM MODEL MOVING LEFT AND RIGHT TODAY'S RUN LATE MONDAY AFTERNOON
From here we wait and see what happens. Rain on the radar remains to the south but not that far away with echos into Southern New Jersey. Models weren't very good with the northern and western extent of the rain so this could be a clue to what happens with all this. The new Hermine advisory and forecast should be out shortly.
FiOS1 News Weather Forecast For Long Island
FiOS1 News Weather Forecast For New Jersey
FiOS1 News Weather Forecast For Hudson Valley
LATEST JOESTRADAMUS ON THE LONG RANGE
Weather App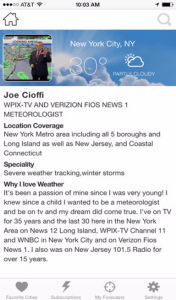 Don't be without Meteorologist Joe Cioffi's weather app. It is really a meteorologist app because you get my forecasts and my analysis and not some automated computer generated forecast based on the GFS model. This is why your app forecast changes every 6 hours. It is model driven with no human input at all. It gives you an icon, a temperature and no insight whatsoever.
It is a complete weather app to suit your forecast needs. All the weather information you need is right on your phone. Android or I-phone, use it to keep track of all the latest weather information and forecasts. This weather app is also free of advertising so you don't have to worry about security issues with your device. An accurate forecast and no worries that your device is being compromised.
Use it in conjunction with my website and my facebook and twitter and you have complete weather coverage of all the latest weather and the long range outlook. The website has been redone and upgraded. Its easy to use and everything is archived so you can see how well Joe does or doesn't do when it comes to forecasts and outlooks.
Just click on the google play button or the apple store button on the sidebar for my app which is on My Weather Concierge. Download the app for free. Subscribe to my forecasts on an ad free environment for just 99 cents a month.
Get my forecasts in the palm of your hand for less than the cost of a cup of Joe!