NAM Model Analysis
The NAM model is not the most reliable model. Once upon a time it was very good but these days it has occasional moments. Begin that it is the first model out every night, let's take a look at what it shows for the week ahead.
NAM Model Analysis NAM MODEL 10AM MONDAY
The first thing will be a cold front moving through on Monday. The front is weak and so is the line of showers that moves through the area tomorrow morning between 7am and noon. Rainfall amounts are light for the most part. The second is the cold front that moves through Wednesday. That one has a little more punch to it. We should see some rain moving in Tuesday night and continuing into the first part of Wednesday.
NAM Model Analysis NAM MODEL 7AM WEDNESDAY
Low pressure with this is going to pass into Western New York. The model does seem to develop a line of heavy showers and thunderstorms Wednesday morning but I don't think we have the same set up regarding severe weather like we did last week. The storm is not nearly as intense and we don't seem to have the warm tropical inflow ahead of this system like we did the last one. Once that front goes by attention then shifts to the end of the week.
NAM Model Analysis NAM MODEL THURSDAY MORNING
At first glance the surface profile looks rather interesting. Cold air is advecting southward in the east behind the cold front and we have a big high building to the north. Low pressure is in Southern Missouri and there is snow breaking out across the Ohio Valley. The issue however is the support aloft which is less impressive.
NAM Model Analysis UPPER AIR JET STREAM THURSDAY MORNING
The northern part of the jet stream centers around a vortex that is just southeast of James Bay. That upper vortex is already pretty far to the east and it is still moving east. This is going put pressure on the southern stream system in not allowing enough room. The NAM model is pretty far north with that southern stream feature. It is further north than the GFS model and not as deep as the Canadian weather model. Tonight's run illustrates the issue regarding timing. When you have different streams of energy it is important that they time out a certain why. The NAM model doesn't go out past 84 hrs so we can just do our best at guessing. My thinking is that the NAM is over amplified here with the southern stream energy and that the system will translate eastward. This could eventually bring a snow threat to the southern areas of the Middle Atlantic States for Friday and Friday night. However the global models are better at this sort of thing so we will wait to see what the GFS model, Canadian weather model, and Euro model do with all this later on tonight.
FiOS1 News Weather Forecast For Long Island
FiOS1 News Weather Forecast For New Jersey
FiOS1 News Weather Forecast For Hudson Valley
NATIONAL WEATHER SERVICE SNOW FORECASTS
LATEST JOESTRADAMUS ON THE LONG RANGE
Weather App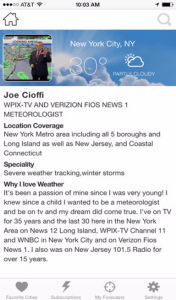 Don't be without Meteorologist Joe Cioffi's weather app. It is really a meteorologist app because you get my forecasts and my analysis and not some automated computer generated forecast based on the GFS model. This is why your app forecast changes every 6 hours. It is model driven with no human input at all. It gives you an icon, a temperature and no insight whatsoever.
It is a complete weather app to suit your forecast needs. All the weather information you need is right on your phone. Android or I-phone, use it to keep track of all the latest weather information and forecasts. This weather app is also free of advertising so you don't have to worry about security issues with your device. An accurate forecast and no worries that your device is being compromised.
Use it in conjunction with my website and my facebook and twitter and you have complete weather coverage of all the latest weather and the long range outlook. The website has been redone and upgraded. Its easy to use and everything is archived so you can see how well Joe does or doesn't do when it comes to forecasts and outlooks.
Just click on the google play button or the apple store button on the sidebar for my app which is on My Weather Concierge. Download the app for free. Subscribe to my forecasts on an ad free environment for just 99 cents a month.
Get my forecasts in the palm of your hand for less than the cost of a cup of Joe!