Moving to Heavier Rains Sunday
Models are moving to a heavier rain profile for Southern New England and Long Island on Sunday with lower amounts west of these areas. However the rainfall will be robust everywhere with a generous 1 to 3 inch rainfall forecast for the entire area from Eastern Pennsylvania to Southern New England.
Other models have the heavier rain axis a little further west including the European model. The GFS model has about half of this amount. I think this could be a good rain producer for a number of reasons. There is terrific moisture inflow. We have a storm that is forecast to intensify fairly rapidly during the time the heavy axis of precipitation is moving by us. I also think there will be a few thunderstorms imbedded in this rain. On the whole it is looking like a very nasty Sunday.
The storm will be moving to Toronto from Arkansas so it is taking a favorable track for a good soaking rain. Temperatures tomorrow will reach the 60s in some areas ahead of this and then behind it cold air will be moving to the coast and Monday it will be in the 30s. Winds will be strong and gusty Sunday and Monday. Coastal flooding for Long Island and Connecticut shores are possible with the strong south winds ahead of the cold front.
Satellite loop shows an impressive twist and a signature strong upper air disturbance. Radar is already showing a large and expanding area of heavy rains. All looks good for a another drought breaking rain even though it does come on a Sunday.
Longer term into next week we have an arctic front approaching on Tuesday and it will move through Tuesday night. I still think there is a fair chance for a cheap thrill coating to an inch or so of snow behind the arctic front late Tuesday night into Wednesday in some areas. Temperatures Wednesday and Thursday will be very cold as we fall into the 20s and Wednesday night looks very cold with lows in the teens at least.
Beyond this period storm signals are being thrown around by all the models for next weekend. JOESTRADAMUS will address this later this evening. Here is last night's video analysis of the European and other models.
NATIONAL WEATHER SERVICE SNOW FORECASTS
LATEST JOESTRADAMUS ON THE LONG RANGE
Weather App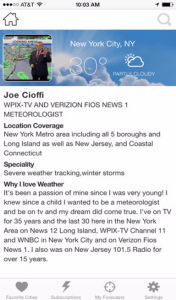 Winter is here! Don't be without Meteorologist Joe Cioffi's weather app. It is a complete weather app to suit your forecast needs. All the weather information you need is right on your phone. Android or I-phone, use it to keep track of all the latest weather information and forecasts. This weather app is also free of advertising so you don't have to worry about security issues with your device. An accurate forecast and no worries that your device is being compromised.
Use it in conjunction with my website and my facebook and twitterand you have complete weather coverage of all the latest weather and the long range outlook. The website has been redone and upgraded. Its easy to use and everything is archived so you can see how well Joe does or doesn't do when it comes to forecasts and outlooks.
Just click on the google play button or the apple store button on the sidebar for my app which is onMy Weather Concierge. Download the app for free. Subscribe to my forecasts on an ad free environment for just 99 cents a month.
Get my forecasts in the palm of your hand for less than the cost of a cup of Joe!