Moving To Another Dry Week
Whether we are moving to a colder look after mid month is still in question. What isn't really in question is that we have another relatively dry week ahead of us as we still have a strong upper air high pressure ridge in the east and deep low pressure trough in  the west. 2 disturbances are moving east in the flow but because they move into the mean ridge position they weaken. It is like trying to penetrate through a brick wall with a chisel and a toothpick as opposed to a a jackhammer. The chisel isn't going to work very well and neither is the toothpick. You need something much stronger to break the wall down and it is just not happening at this point.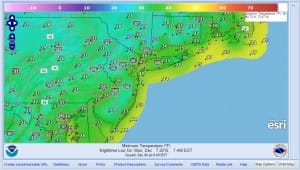 2 weather systems will be passing through and both look like non events. Tonight will be clear and cold but not as cold as last night as we don't have ideal conditions for radiational cooling. Lows will be in the 30s in warmer urban areas with cold spots in the 20s. Monday looks nice and sunny with just some high clouds. Highs will be in the 50s again but more toward lower 50s with a bit of north breeze.
This is as close as low pressure gets to the east coast on Tuesday morning. Dry air from New England plus clouds will make things cooler on Tuesday with highs just in the 40s which is still a little above normal. By Wednesday its high pressure and another good day of sunshine and highs in the lower 50s.  Other than a couple of weak disturbances moving through the flow, the next weather system of importance will come a week from tomorrow as a low pressure develops in the Gulf States and heads to the Great Lakes. Models want to make this a pretty strong storm for the Great Lake and it should start a process of cooling down the east that we have been talking about in the long range discussions.
We aren't sure how real this is but there is some evidence to suggest this should be a rather strong system that winds up heading into the Northern Lakes a week from Tuesday. We will see if it winds up being s long term pattern game changer or not.
JOESTRADAMUS ON THE LONG RANGE
JOESTRADAMUS SATURDAY MORNING FORECAST ANALYSIS
SNOW CONTINUES IN THE WEST BUT IS LACKING IN THE EAST OVER THE NEXT 10 DAYS…SKIING OUTLOOK
UPDATED WINTER FORECAST FOR 2015-2016