DOWNLOAD MY NEW FREE JOESTRADAMUS WEATHER APP FOR ALL DEVICES
Mother's Day Rain Raw Cold More of the Same Monday
The well advertised nasty Mother's Day weather outlook is playing according to plan this morning. We had the first shot of rain move through overnight and now comes round number 2 which is moving in and will continue into tonight. The satellite picture shows clouds everywhere east of the Mississippi river with variable weather conditions ranging from just cloudy to overrunning rain to severe thunderstorms that are likely in the Southeast US. For our area we are going to see temperatures hold in the 40s to at best the low 50s with a raw northeast wind all day long.
SATELLITE

REGIONAL RADAR

Regional radar shows lots of rain just to the west aiming for the coast and the local radars remain rather busy this morning and should be busy all day with light to moderate rain. There are some areas showing some breaks in the action and that is really about the best you can hope for on a day like this.
LOCAL RADAR NEW YORK CITY
LOCAL RADAR PHILADELPHIA

This is the first of 2 waves of low pressure that will be passing off the Delaware coast later today with a second one that follows for Monday. The first low moves out tonight with rain ending from west to east around 10pm-midnight. We will dry out overnight into Monday afternoon and then round 2 begins that takes us into Monday night early Tuesday morning.
While weather conditions should improve somewhat on Tuesday the issue is a cold upper trough in the Eastern US which will be stubborn and slow to get out of the way. This is going to mean clouds developing and the chance for passing showers later Tuesday and again on Wednesday. At least temperatures should make it back into the 60s and there could be some breaks of sun on both days to help temperatures along but clouds will be an issue. Rainfall totals through Wednesday morning should be in the 1 to 2 inch range.
Weak systems will continue to move along in the northwest flow with another coming on Thursday. There is little hope for prolonged nice weather until the eastern trough gets out of the way.We may  have to  wait until  the  weekend  for this to occur.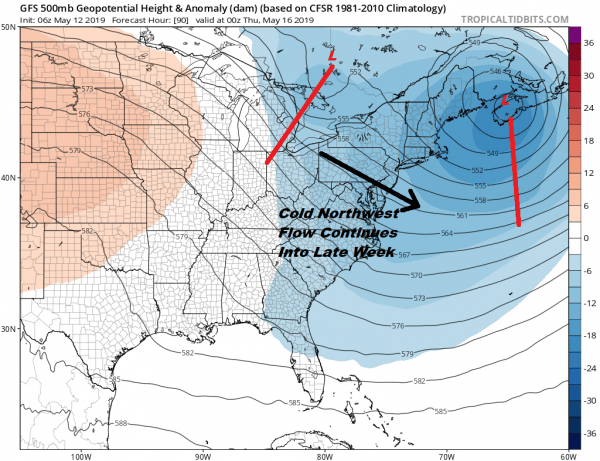 Unfortunately this may put us into another situation with a low coming out of the Plains and an onshore flow setting up again next weekend. We will address this in a long range post later today or this evening. Try to forget the weather and enjoy a nice Mother's Day.
MANY THANKS TO

TROPICAL TIDBITS

FOR THE USE OF MAPS
Please note that with regards to any tropical storms or hurricanes, should a storm be threatening, please consult your local National Weather Service office or your local government officials about what action you should be taking to protect life and property.