Mostly Quiet Weekend Ahead of Cold Front Monday

Weather in 5/Joe & Joe Weather Show Latest Podcast
Mostly Quiet Weekend Ahead of Cold Front Monday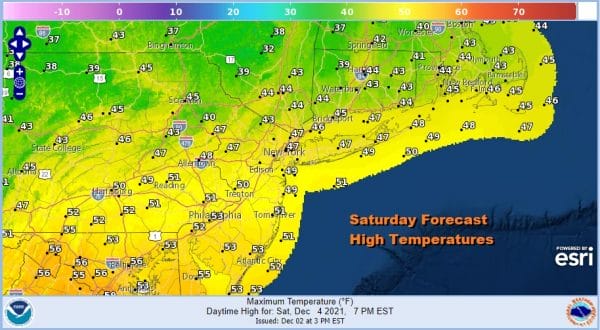 The weekend is underway and there have been no new developments in terms of the outlook. We are in this fast flow progressive pattern (weather systems move from west to east at a regular pace) and that doesn't look to change anytime soon. We see some patchy clouds around along with patches of sunshine and that will be our story for today. Highs will be mostly in the mid 40s to lower 50s. Radars are nice and quiet and we don not expect any issues through Sunday.
SATELLITE

WEATHER RADAR

We have a weak little front moving through late today which will be hardly noticeable and another high builds into New England for tonight into Sunday. Skies should clear out tonight with lows in the upper 20s to middle 30s. Sunday starts with sunshine but the high will move off the New England coast as the day wears on. This should allow for some clouds to roll in. Highs will be in the 40s to around 50.
Warmer air will run up the coast later Sunday night and Monday ahead of an arriving clouds front. We could see a few scattered showers during the early morning hours Monday and then a better chance for showers late in the day. In between it will be warm with clouds and some sun could even poke through the clouds. Look for highs to make a run into the 60s before the cold front passes Monday evening.
We talked about the long range yesterday and while unfavorable for long lasting cold or snow, it is possible a window could open up Wednesday into Thursday of next week for some snow. The way it happens is the northern stream keeps the flow weak and flattish. The GFS example here shows an over developed low off the Delaware coast Wednesday night into Thursday. An overdeveloped low would mean rain with snow to the north, mainly north of I-90 but we think the GFS is too amped up here and that a flatter colder solution is possible. If it is too flat then everything gets suppressed south. We will be taking a look at this in the long range later today on Patreon.

Please note that with regards to any severe weather,  tropical storms, or hurricanes, should a storm be threatening, please consult your local National Weather Service office or your local government officials about what action you should be taking to protect life and property.