Mostly Dry Weekend Rain Grazes Coast Sunday Night into Monday,
Warm Week Ahead

We can call this make believe cold air as we can think that yesterday highs were into the 50s and 60s and today's highs are just in the low to mid 40s so we are 15 or so degrees colder than yesterday. That is technically colder and it is also half a dozen degrees above normal. Much of the Northeast and Mid Atlantic is enjoying a nice day today of sunshine. There are no weather issues today or tonight and while we will see clouds start to increase Sunday especially near the coast. No rain is forecast through the daytime Sunday.
SATELLITE

WEATHER RADAR

Most lows tonight will be in the upper 20s to mid 30s under mostly clear skies. Sunday will be a day which will start with sun but it will fade behind high and middle clouds coming up from the south. Highs again will be in the middle to a few upper 40s (depending on how much sun we see).
We have moisture streaming northward today from the Gulf of Mexico into the Southeast US and we also have a vigorous upper air storm that is moving across the Deep South. This vigorous upper air low will likely create some accumulating snows for the Southern and Central Appalachians later tonight and Sunday. Low pressure will develop at the surface along the Coastal Carolains Sunday and begin a move to the northeast.
Westerly winds in the upper atmosphere basically create a brick wall for this developing low. It will only get so far north before it begins to slide out more to the east. This will bring some rain northward into Central and Southern New Jersey and grazing Long Island, Southern & Southeastern New England with some rain Sunday night into Monday morning. Areas to the northwest of the coast will likely see just cloudy skies.
Storms like this can often times bring down colder air behind them but there is no cold air anywhere to the west and north. This will leave us with decreasing clouds as the day wears on Monday especially inland. Highs will reach the 50s except for 40s north and east of NYC where clouds will take a little longer to get out of the way. Any rain at the coast should be done by mid to late morning at the latest.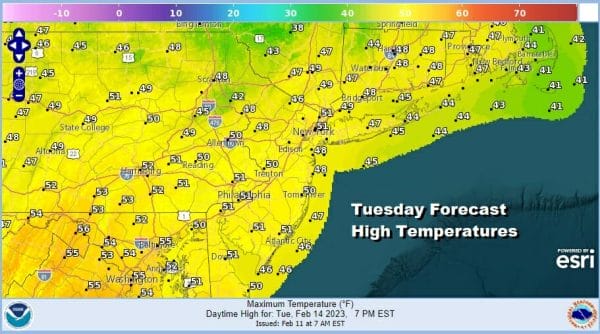 Next week it is all about, wait for it…..above normal temperatures! We will be running about 10 or more degrees above normal pretty much every day next week with Tuesday nighs in the upper 40s and lower 50s with some sunshine. Low pressure Tuesday night and Wednesday heads way to the west in the Great Lakes leaving us with nothing to deal with other than a dying cold front. Look for some sunshine Wednesday with highs in the mid 50s to around 60.
Another low will be heading to the Great Lakes on Thursday and that puts us in line for southwest winds ahead of a cold front. With any sunshine Thursday temperatures will climb into the 60s everywhere except along south facing shorelines with the wind off the water. If there is enough sun, we could see record highs in the mid 60s and I'm going to push the envelope here and perhaps some warm spots could approach 70 degrees.
The end of the week brings a cold front and the chance for showers Friday with highs in the upper 50s and lower 60s. Temperatures will turn a bit colder for next weekend. There is no change in the overall weather pattern in the long range outlook as non-winter winter continues unabated.
Please note that with regards to any severe weather,  tropical storms, or hurricanes, should a storm be threatening, please consult your local National Weather Service office or your local government officials about what action you should be taking to protect life and property.