Weather Synopsis  & Long Range Monday  5/17/2021 9am
Support my app through Patreon
. It keeps ads to a minimum and additional exclusive weather coverage is provided on that platform including extra videos and one on one contact.

Weather in 5/Joe & Joe Weather Show Latest Podcast
Warmer Weather On The Way Highs Close to 90 Degrees Midweek
The advertised warm up is on the way. This is a time of year where the very strong and strengthening May sun will take temperatures higher and usually 3 to 5 degrees higher than models forecast. We have an upper high building in the Eastern US that will be strengthening all week. The northwest flow that has been bringing weak troughs through the area the last 3 afternoons is shifting east.
This leaves us in sunshine today with some patchy clouds that might pop up this afternoon. There is also the chance for a scattered pop up shower or thunderstorm this afternoon and evening with the best chances inland. Temperatures today will reach the middle and perhaps even a few upper 70s. We should finish higher than the forecast highs above.
SATELLITE

Tonight we look ahead to clearing skies with most lows will be in the 50s with upper 40s in cool spots. Tuesday begins the real warm up and again we will probably finish up a little higher than models advertised. We should have plenty of sun with no scattered showers or thunderstorms forecast. Highs will reach into the 80s in many areas.
Wednesday and Thursday will be very warm to hot. Sunshine should take highs to the mid 80s to near 90 degrees in some places and we should be able to do it again on Thursday. One other good thing about this time of year as that hot temperatures can be accomplished with low humidity with just a little northwest flow which we have. Dew points are still low on Thursday with most dew points only in the low to mid 50s so humidity is not an issue.
Starting Friday the strong upper ridge will begin a slow migration westward (and we do mean slow). As a result this will allow weak dying fronts to move southeast from Canada beginning Thursday night where there is the chance for a shower or thunderstorm. Friday will be very warm again with some sunshine and highs in the mid to upper 80s. There is the chance for scattered or thunderstorms Friday night as another weak front approaches. The humidity will still be reasonable with dew points in the 50s.
The very warm weather continues over the weekend with highs both Saturday and Sunday in the 80s. Right now we are thinking that Saturday will be partly sunny with the chance for a shower or thunderstorm. Sunday probably brings the best chance for widespread thunderstorms late in the day as a stronger cold front drops down from Eastern Canada.
We will likely see a short break from the much above normal temperatures early next week as high pressure builds in from the north but the air with this high won't be all that cool. It will just take highs back into the 70s to near 80. No widespread rain is forecast here overall (other than the shower thunderstorm threats) over the next 10 days.
SNOW FORECAST MAPS
New York City, Ne NJ, HV, LI, Coastal Ct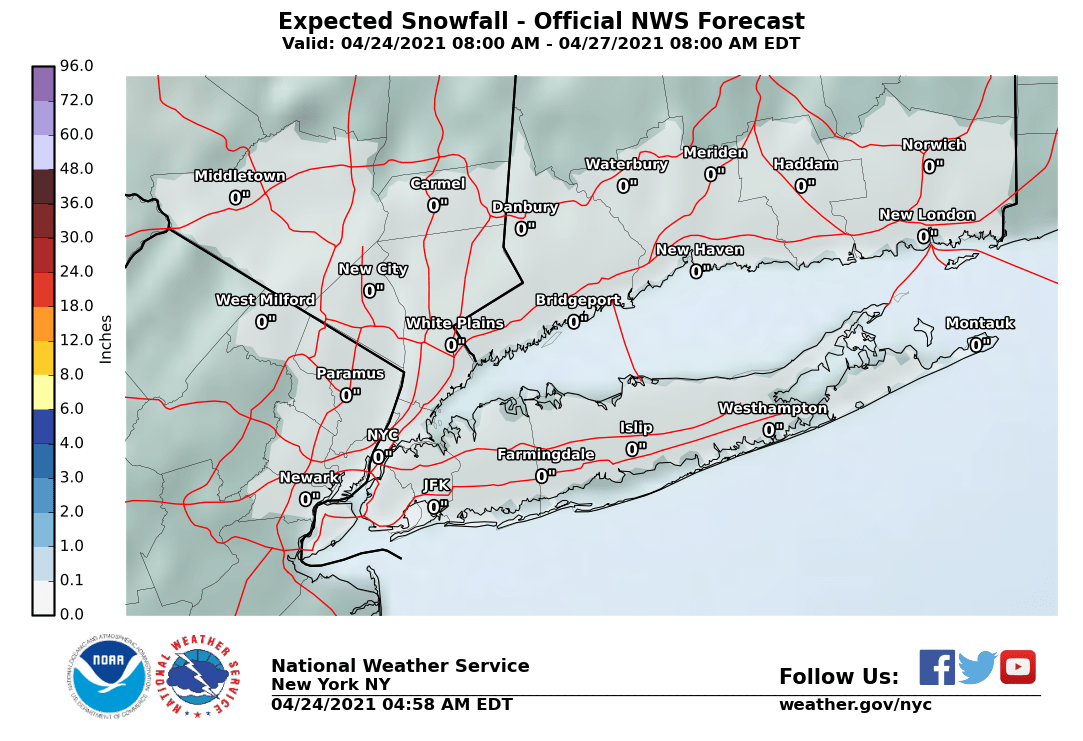 SOUTHEAST NEW ENGLAND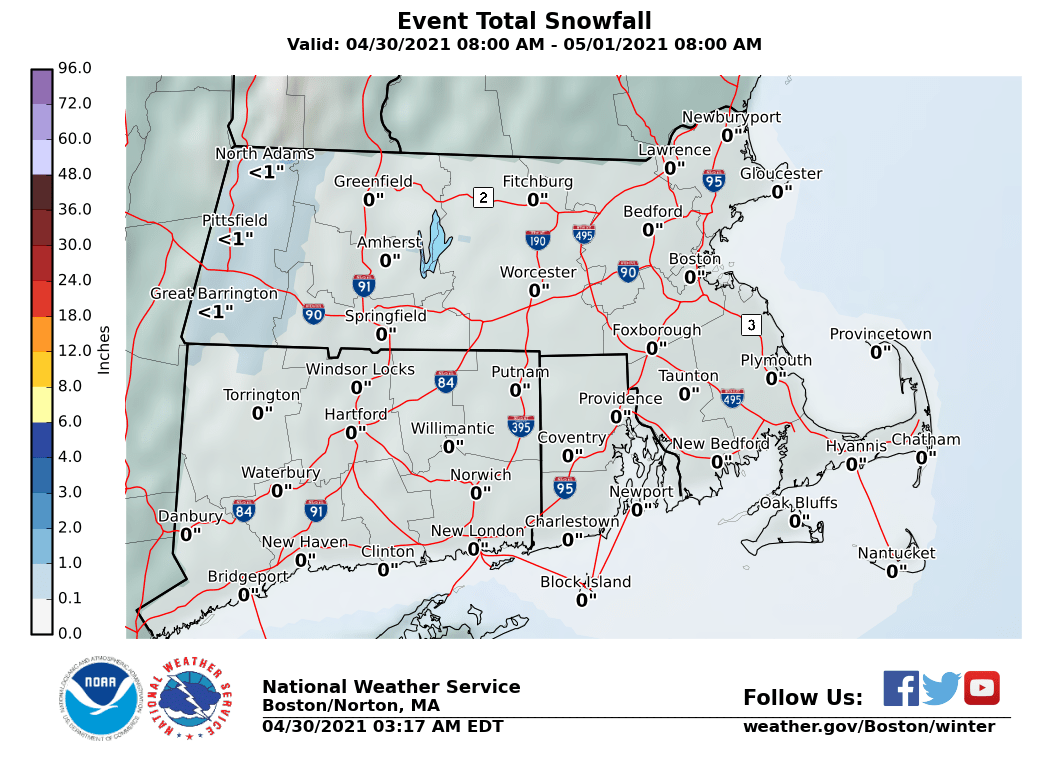 NEW JERSEY & PARTS OF NE PA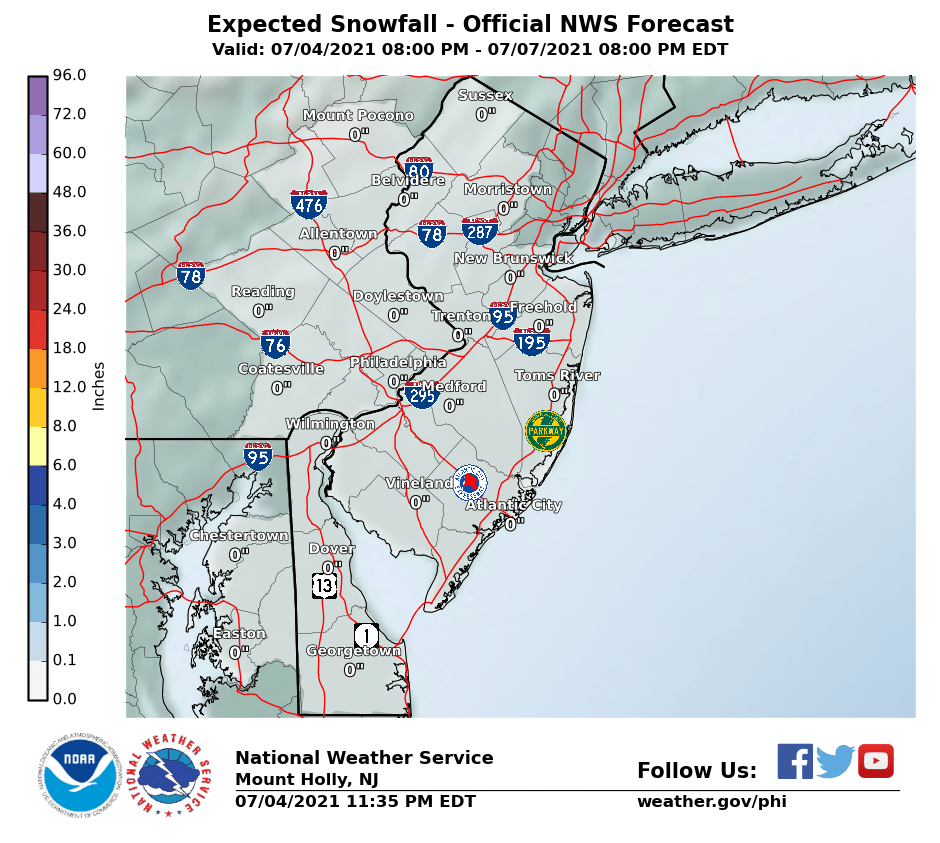 NORTHERN NEW ENGLAND
 WESTERN NEW ENGLAND
MIDDLE AND UPPER HUDSON VALLEY
CENTRAL NEW YORK & NE PA
CENTRAL & SOUTH CENTRAL PA
WESTERN PENNSYLVANIA EASTERN OHIO
VIRGINIA & MARYLAND
SNOW FORECAST MAPS ACROSS THE SOUTH
SOUTHEAST VIRGINIA
WESTERN VIRGINIA INTO WESTERN NORTH CAROLINA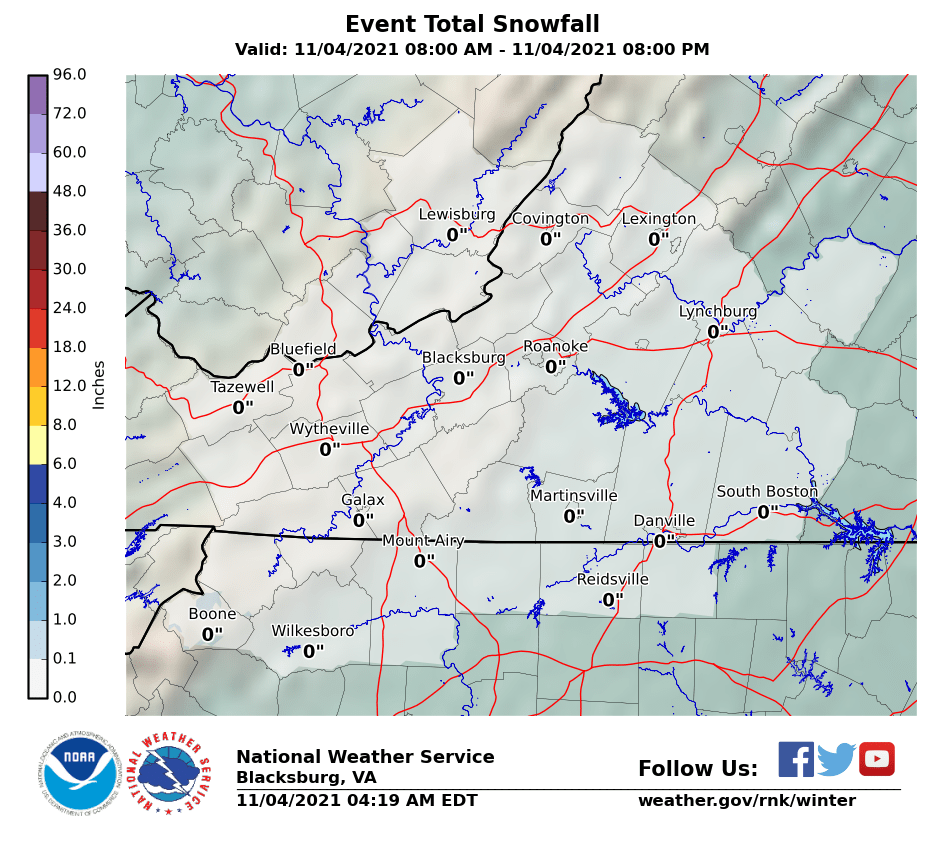 WESTERN NORTH CAROLINA & SOUTH CAROLINA
EASTERN NORTH CAROLINA
COASTAL & SOUTHEAST NORTH CAROLINA
Southern New England Ice Forecast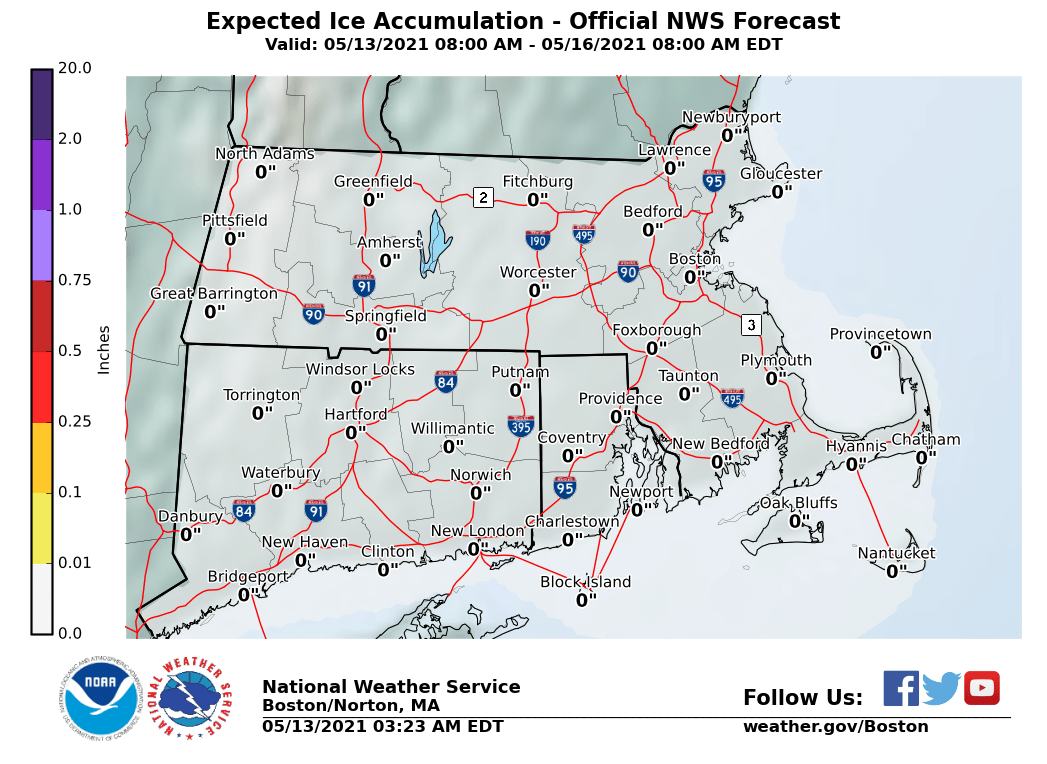 Middle & Upper Hudson Valley Ice Forecast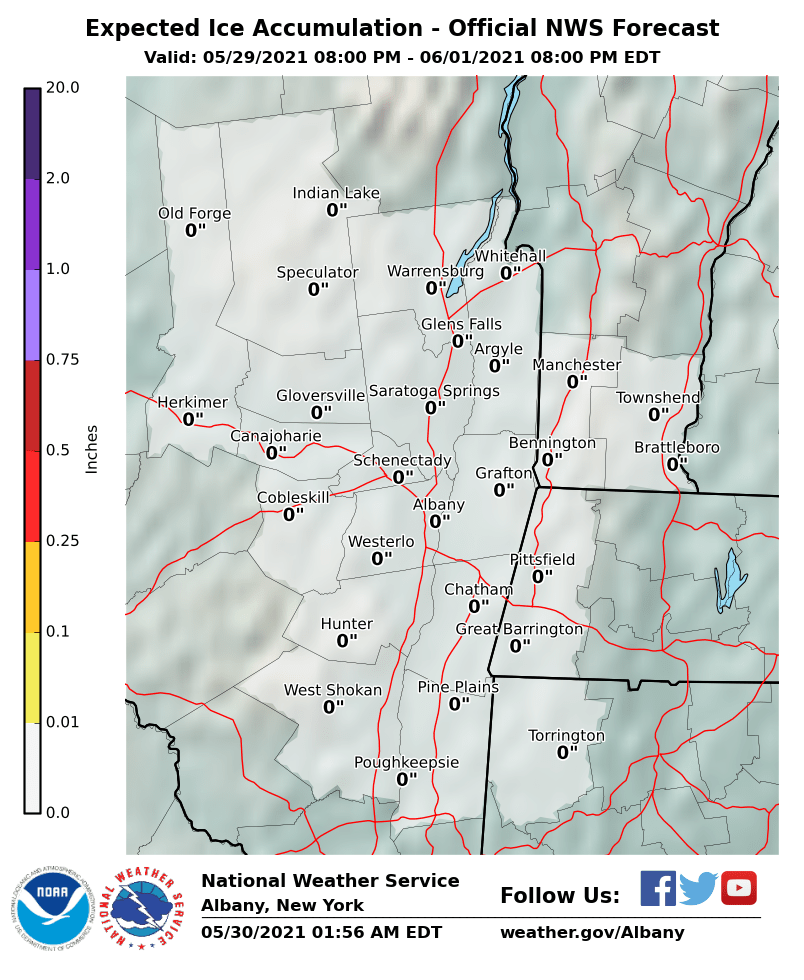 Southeast NY Ice Forecast
Northeast PA/New Jersey Ice Forecast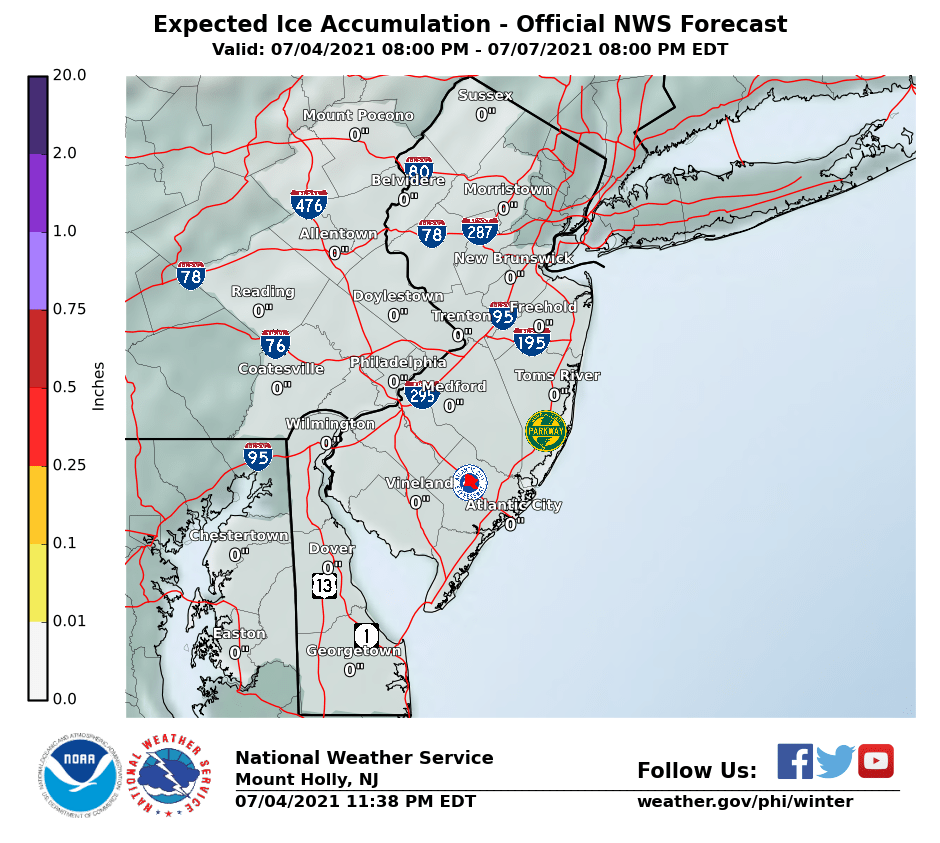 DAILY NORTHEAST SNOWFALL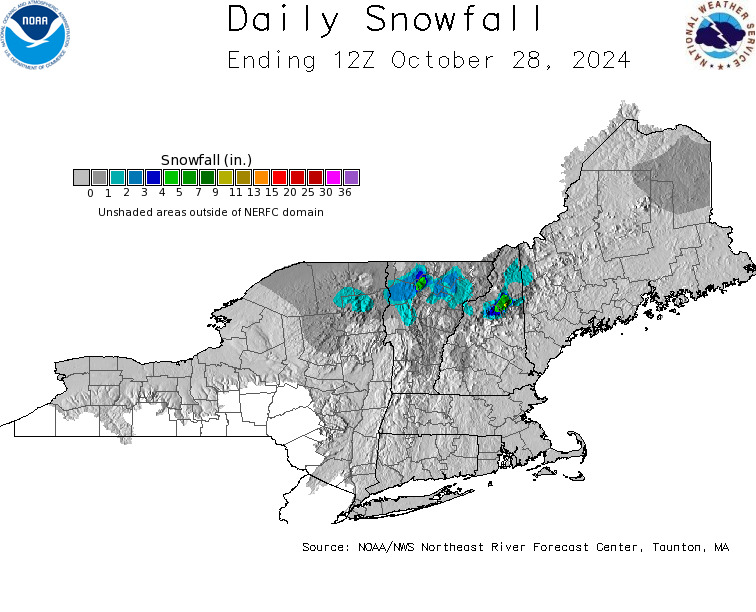 NATIONAL SEVERE WEATHER OUTLOOK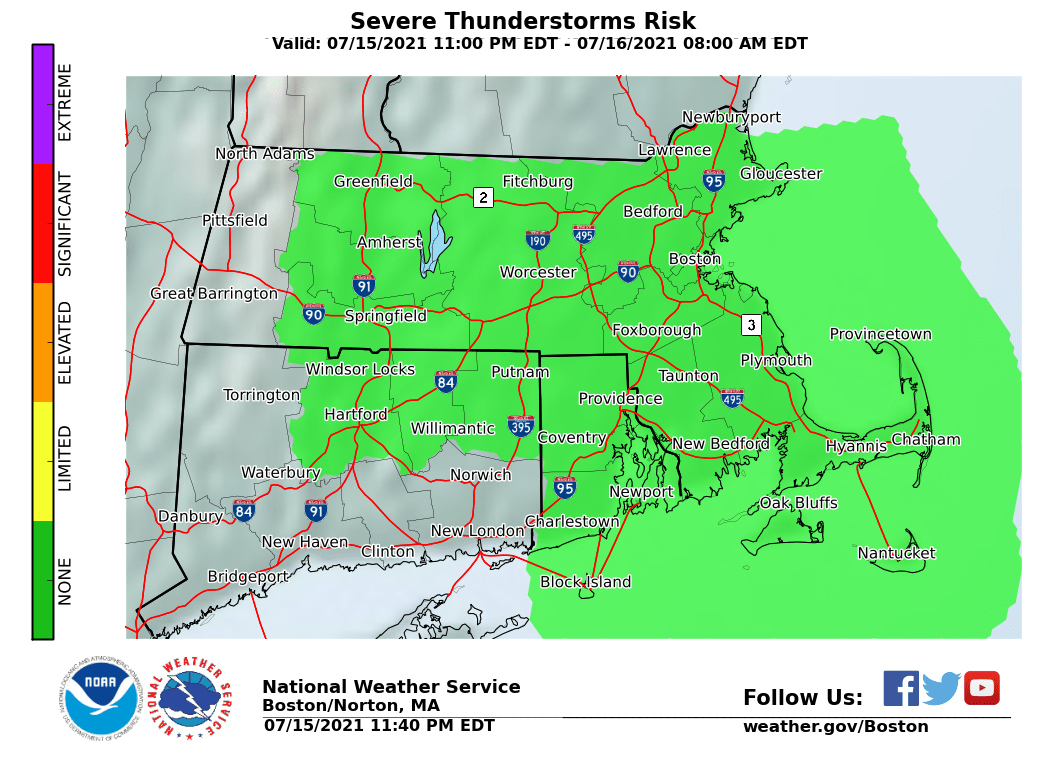 EASTERN SATELLITE

F5 WEATHER REGIONAL RADAR NORTHEAST

F5 WEATHER REGIONAL RADAR MID ATLANTIC
F5 WEATHER REGIONAL RADAR SOUTHEAST
Please note that with regards to any tropical storms or hurricanes, should a storm be threatening, please consult your local National Weather Service office or your local government officials about what action you should be taking to protect life and property.