Weather Synopsis  & Long Range Sunday 9/24/2023 7am
Support my app through Patreon. It keeps ads to a minimum and additional exclusive weather coverage is provided on the platform including extra videos and one on one contact.
Remnant Ophelia Still Producing Rain Today Gloom & Doom for the Week Ahead

The next several days across Eastern Pennsylvania to Southern New England it will be the land of doom and gloom, or if you prefer, gloom and doom! I perfer the latter. Either way for those of you who don't know what that means, it is a pattern where we have non stop onshore flow, usually caused by high pressure to the northeast and lower pressures to the south. This will be set up at least into Wednesday of this new week.
SATELLITE WITH LIGHTNING STRIKES

WEATHER RADAR

Today we are following the remnant low of Tropical Storm Ophelia which is still an identifiable feature on satellite and radar loops. The center of that remnant low will track from Maryland to New Jersey today with the low passing off the New Jersey coast in time as the GFS loop shows above. Showery rains will occur from time to time today especially during the afternoon and evening. Some of the rain will be heavy. The rain will be on and off in nature and vary from place to place but it iwll be come more continuous later today and then continue through Monday and into Tuesday morning.
Most high temperatures today will be in the low to mid 60s with a northeast wind however in parts of South Jersey which could be on the south side of the remnant Ophelia track, it could reach lower 70s. Rainfall could be heavy at times but that will be more localized than anything else. Rainfall amounts spread out from today through Tuesday morning will be on the order of an inch and a half to two inches but spread out over that amount of time could keep the risk of localized flooding down.
Monday we will see more rain and a northeast wind with highs mostly in the 60s. Tuesday sees higher pressure to the north trying to build southward so this at least will push the rain to the southeast and offshore Tuesday during the day but we will remain in clouds and highs in the 60s. Clouds may still be around Wednesday with highs again in the 60s. It may not be until later Wednesday or Thursday where the high will push far enough south into New England to bring some clearing of skies from north to south. Models aree hinting at another non tropical storm to develop off the Southeast US coast next weekend and possibly move northward but there is much uncertainty about this right now. In the meantime the gloom and doom lies on the road ahead.
NATIONAL WEATHER SERVICE SNOW FORECAST MAPS
New York City, Ne NJ, HV, LI, Coastal Ct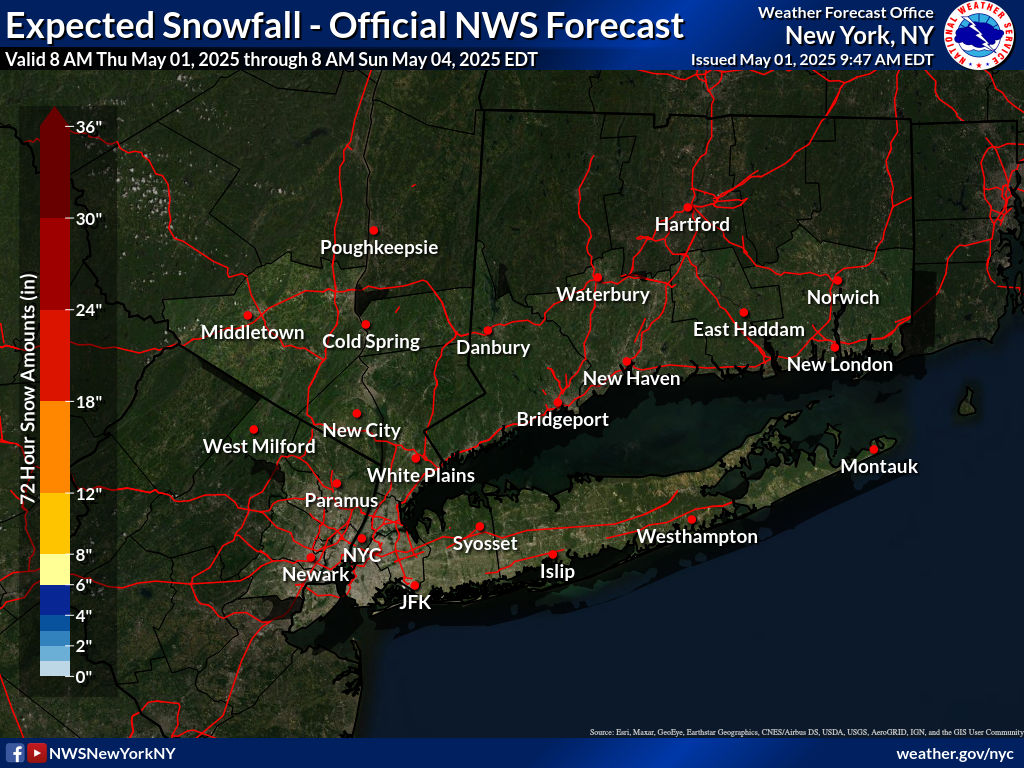 SOUTHEAST NEW ENGLAND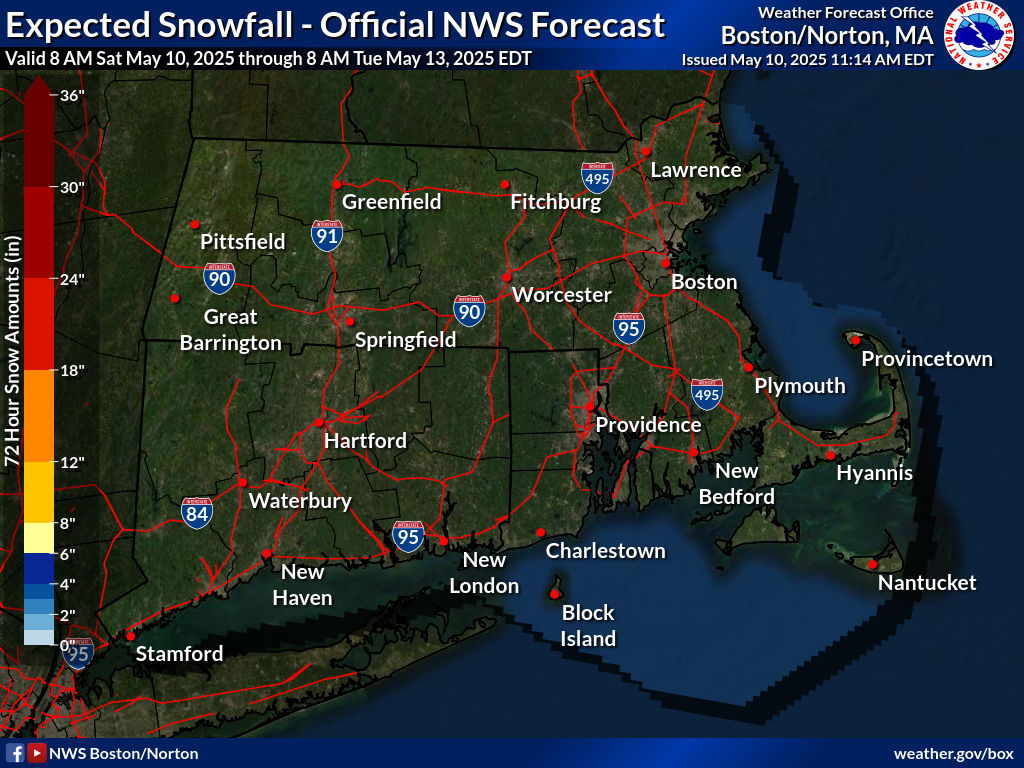 NEW JERSEY & PARTS OF NE PA
NORTHERN NEW ENGLAND
 WESTERN NEW ENGLAND
MIDDLE AND UPPER HUDSON VALLEY
CENTRAL NEW YORK & NE PA
ICE FORECASTS
Southern New England Ice Forecast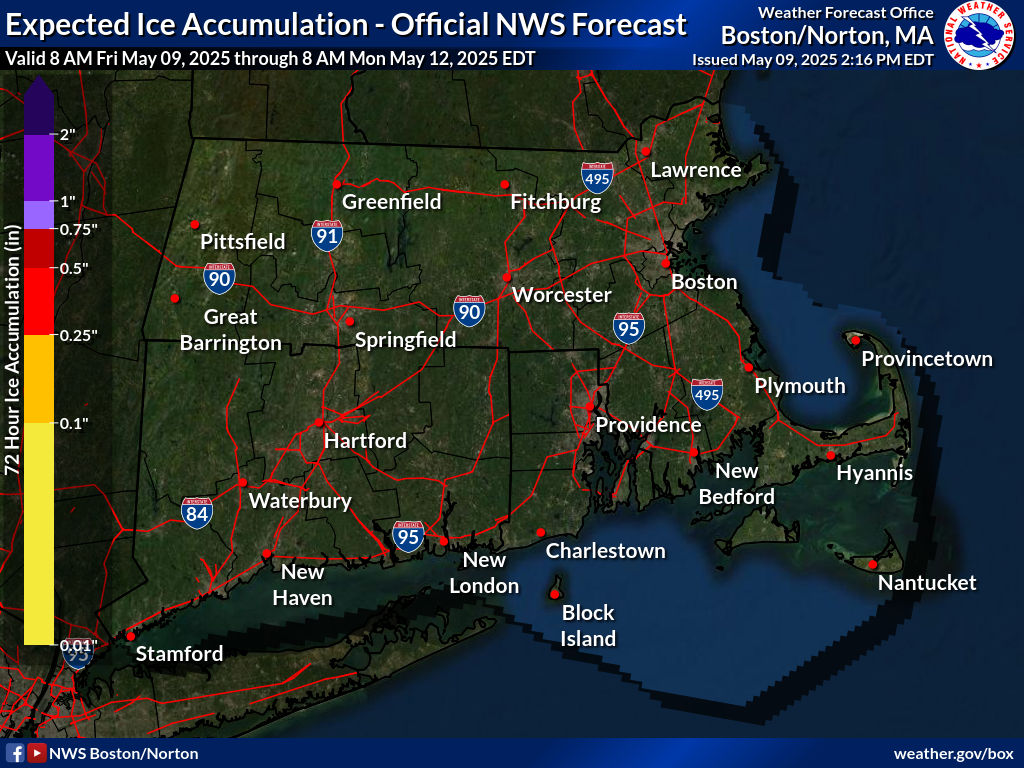 EASTERN PENNSYLVANIA NW CENTRAL & SOUTH JERSEY/DE MD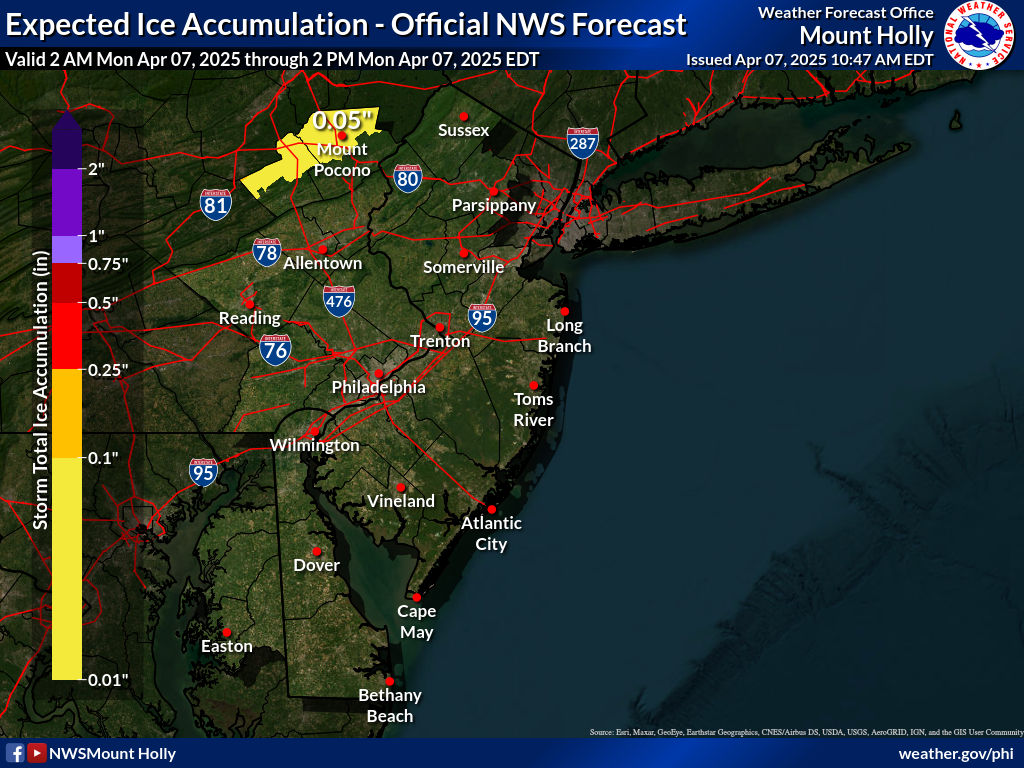 NOAA EASTERN SATELLITE

MANY THANKS TO
TROPICAL TIDBITS

FOR THE USE OF MAPS

Please note that with regards to any tropical storms or hurricanes, should a storm be threatening, please consult your local National Weather Service office or your local government officials about what action you should be taking to protect life and property.