Mix Rain Snow Today Winter Storm Watch New Jersey Eastern Pa Wednesday

Weather in 5/Joe & Joe Weather Show Latest Podcast
Mix Rain Snow Today Winter Storm Watch New Jersey Eastern Pa Wednesday
The first of 2 storm systems is moving through today and we are already seeing precipitation moving eastward. The satellite picture shows solid cloud coverage across much of the area. This is all due to low pressure moving quickly to and off the Carolinas today while at the same time a cold high is building across the Great Lakes and Eastern Canada.
SATELLITE

REGIONAL RADAR

Regional radar is rather loaded up with precipitation moving east from West Virginia and Western Virginia as well as pennsylvania. Some snow is developing on the northern flank and local radars are seeing an increase in precipitation as well.
LOCAL RADAR NEW YORK CITY
LOCAL RADAR PHILADELPHIA

From the stand point of snow today it may be enough to whiten the ground or even leave a slushy couple of inches in places across Northeastern Pennsylvania, Northern New Jersey and in the Hudson Valley north of route 84. There are no winter weather advisories in effect today as it falls just below criteria and roads are likely to be mostly wet except perhaps where elevation is involved.
Along coastal areas I think we could see some mixing this afternoon as the low goes by. Then it turns windy and colder as that low strengthens to the east and skies clear. Temperatures today will settle in the 30s and lows tonight will be in the 20s. Tuesday will be sunny breezy and cold with a big high to the north. Highs will be in the 30s. Then an important cold night follows. It is important because cold air will be draining southward and most lows will be in the upper teens to mid 20s Wednesday morning.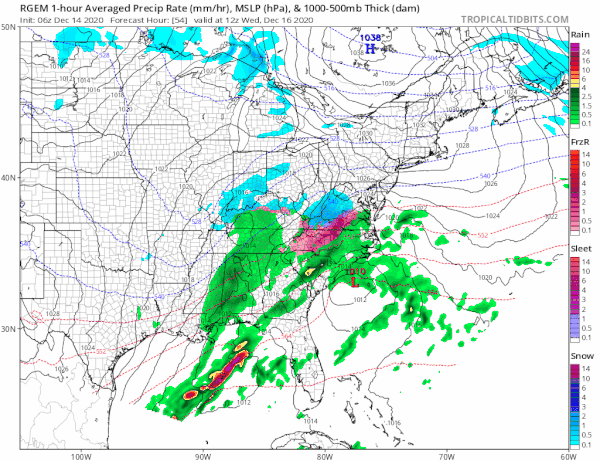 After that it is all about low pressure moving across the south. A primary heads into Tennessse and Kentucky and falls apart. A secondary develops off the Southeast US coast and heads northward before it turns eastward when it reaches Delaware. Nothing in the overnight model runs suggest any major changes in the forecast logic. Models will continue to hiccup in one direction or another. It will be all about the high to the north and how the low reacts to it. That will determine how much cold air will be around and how much precipitation falls as snow and where.
The first Winter Storm Watches are up for Eastern Pennsylvania and much of New Jersey for late Wednesday into Thursday and you can expect additional watches to be added probably this evening. The potential for 6 to 10 inches of snow exists and some places from Central and Eastern Pennsylvania to Southern New England could see a bit more than that.
Perhaps the best way of looking at this storm at this current stage is by probability. What is the chance of at least 4 inches of snow accumulating by Thursday morning? Well per the Weather Prediction Center forecast, we can see that those chances are very high from Baltimore to Philadelphia to NYC and points north and northeast.
We are also seeing very high numbers regarding the chance for 8 inches or more even for the major cities from just north and west of Baltimore to Philadelphia to NYC to Southern New England with odds of 50% or higher. I think this is a much better way of looking at storms that are still a few days away. Snow develops from south to north during the day Wednesday and then it all comes to an end Thursday morning. Wind is going to be an issue with this too. We will be zeroing in on a final forecast in the coming days.
In the meantime should you require a more specific snow forecast in numbers, my early call snow forecast maps for the Middle Atlantic and Northeast are up as well as analysis of what weather models are showing on my subscription platform on Patreon.
MANY THANKS TO TROPICAL TIDBITS FOR THE USE OF MAPS
Please note that with regards to any severe weather,  tropical storms, or hurricanes, should a storm be threatening, please consult your local National Weather Service office or your local government officials about what action you should be taking to protect life and property.