Minimal Thunderstorms Tonight Thursday July 4th, Thunderstorm Chance Late Friday
Saturday Severe Weather Risk Late Day
Lower Humidity Arrives Later Sunday Monday
After examining everything this afternoon we maintain the same forecast idea with minimal thunderstorm activity tonight and unless something pops up in an isolated spot we should be rain free for the 4th of July and for tomorrow night when numerous firework displays will be going on. It will be very warm and humid but that isn't anything unusual.  We have been on the edge of the flow around an upper high in the Gulf States. Some clouds have been moving through but we seem to lack a strong enough mechanism to trigger off anything other than a scattered downpour or thunderstorm this evening. The vast majority of you won't see a thing. It will be warm and humid overnight with lows in the 60s to near 70.
SATELLITE

REGIONAL RADAR

The regional and local radar are showing a lack of activity. There are some streaks on the radar where there are a few scattered showers or the odd thunderstorm. You really need to be extremely unlucky to be under those this evening. The echos are moving from northwest to southeast which reflects where we are regarding the flow aloft. Is it very warm? Yes! Is it uncomfortable? Somewhat! Is it hot? I would not describe our weather as hot. I would describe it as summery.
LOCAL RADAR NEW YORK CITY
LOCAL RADAR PHILADELPHIA

Thursday we will see sunshine and clouds and I'm thinking no showers or thunderstorms at all. Highs will be in the 80s to near 90 in most places. The humidity will be high but not truly oppressive. All systems are go for whatever you have planned outdoors during the day. Warm and humid conditions continue tomorrow night with just a few clouds around and no weather issues.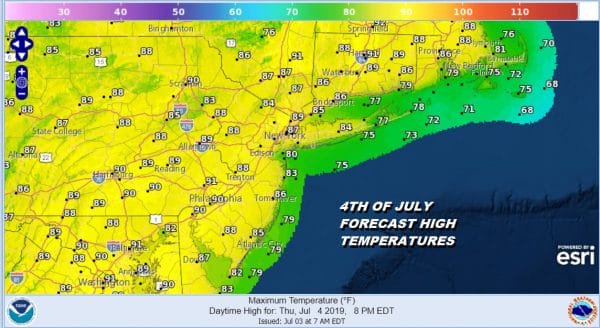 On to Friday where a cold front will be dropping southeast from the Great Lakes and heading east. It will be another very warm to borderline hot day with some sunshine. Highs will be in the 80s to near 90. There is a chance for thunderstorms scattered around late in the afternoon and evening on Friday with the best chances away from the coast.
The cold front nears late Saturday afternoon. We have a solid upper air shortwave trough and with dew points Saturday into the 70s some strong thunderstorms could develop during the afternoon and evening before the front passes. We should see some sun taking temperatures Saturday into the upper 80s and lower 90s until the front arrives. There is an issue with the front for Sunday as it may get hung up for a short time. Dry air from Canada will be slow to move in and that might leave parts of the area with humidity still hanging on and perhaps another shower or thunderstorm especially early in the day.
The yellow and orange areas represent the higher dew points and you can see on the loop how they hang on for awhile on Sunday before the dry green area pushes in Sunday night and Monday. Actually the lower humidity seems to make it into Southern New England on Sunday but it doesn't make it into much of Eastern Pennsylvania and New Jersey. Clouds will be around on Sunday along with some breaks of sun. Temperatures will be cooler with highs in the low 80s north and middle 80s to the south. Monday however the dry air is here and bleeds down into Maryland and Northern Virginia. We should see sunshine Monday with most highs 80 to 85. The dry air looks to hang on Tuesday and perhaps into Wednesday before the humidity comes up briefly with a chance for thunderstorms Wednesday night. That is the next cold front and if it plays according to plan, another shot of dry nice air follows late next week.
MANY THANKS TO

TROPICAL TIDBITS

FOR THE USE OF MAPS
Please note that with regards to any tropical storms or hurricanes, should a storm be threatening, please consult your local National Weather Service office or your local government officials about what action you should be taking to protect life and property.