Meteorologist APP
Droid Weather App Available & Also for I-phone!
There are weather apps out there but a meteorologist app is different. You get weather but you get a meteorologist behind it and not a computer generated forecast. That's what makes my weather app different from the others. You get me! Standard weather apps are automated using the GFS model and it changes every 6 hours. There is no consistency or reliability. All you get are pretty little icons with model generated temperatures that are highly inaccurate over the long term.
Winter has been very volatile this year. Blizzards, 60 degree days, below zero days. Joe Cioffi's meteorologist app. It is a complete weather app to suit your forecast needs. All the weather information you need is right on your phone. Droid weather app or I-phone weather app, use it to keep track of all the latest weather information and forecasts. This weather app is also free of advertising so you don't have to worry about security issues with your device. An accurate forecast and no worries that your device is being compromised
Meteorologist APP JOE CIOFFI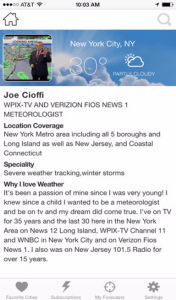 My weather app is great for personal use and it is also great for business use. You get an actual forecast and outlook from a human being and not some computer generated forecast. Real time satellitel loops, radar loops, and much more. Every day!!! All the time! It comes in handy to have my forecast available to you when severe weather hits, especially in snowstorms. Forecast areas include all of Southeast NY including New York City, Long Island, and the Hudson Valley, all of New Jersey, Eastern Pennsylvania and Southern New England.
Use it in conjunction with my website and my facebookand twitter and you have complete weather coverage of all the latest weather and the long range outlook.  The website has been redone and upgraded. Its easy to use and everything is archived so you can see how well Joe does or doesn't do when it comes to forecasts and outlooks.
Just click on the google play button or the apple store button on the sidebar for my app which is onMy Weather Concierge. Download the app for free. Subscribe to my forecasts on an ad free environment for just 99 cents a month. Get my forecasts in the palm of your hand for less than the cost of a cup of Joe! Droid weather app and also available for your I Phone!