Memorial Day Weekend of Sunshine Coastal Storm Off South Carolina Not A Factor
Memorial Day Weekend of Sunshine Coastal Storm Off South Carolina Not A Factor

The Memorial Day holiday weekend is underway and it starts of with lots of sunshine. The Northeast and Northern Mid Atlantic are shielded from a developing low pressure area off the South Carolina cast. We can thank a sprawling high over the Great Lakes and Northeast that is locked in for the weekend and for Monday as well. The satellite loop shows the low stuck off the coast and not making much progress in any direction. High Clouds are far to the south today with just a little of it blowing northward. So enjoy the sunny Saturday. Most highs will be in the low to mid 70s except for 60s right along the coast thanks to onshore winds. Radars are nice and quiet locally with no issues.
SATELLITE

WEATHER RADAR

Tonight should be nice and clear but on the cool side with most lows in the 50s with 40s inland. Sunday should be fine with sunshine though there might be some patchy high clouds that will come in from the south but it will be a case where the further south you go the more clouds you get while the further north you go the more sunshine you get. All areas in Eastern Pennsylvania to Southern New England will see their share of sunshine.
Sunday high temperatures will be in the middle 70s in most places but the shore will be cooler with temperatures in the 60s. Note that the surf might be a bit on the rough side and be cautious of rip currents. Also ocean water temperatures are cold as well so only the brave dare get wet.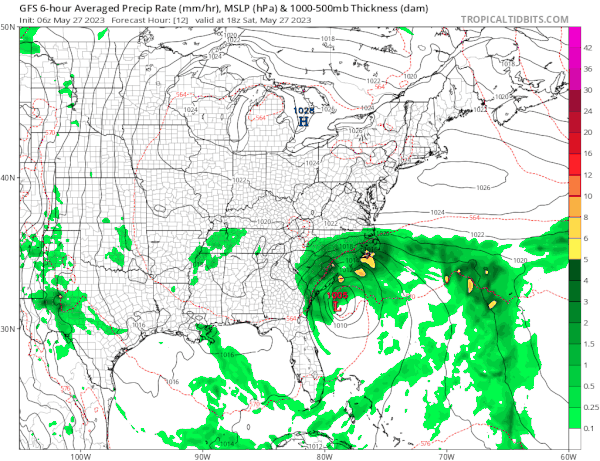 The coastal low will be moving inland and wobbling slowly north or northwestward Sunday and Monday and that brings rain to areas like Virginia to the Delmarva Peninsula as well as some patchy high clouds a little furrther north. However Monday will be rain free with sunshine or at least partly sunny skies. Again further south in Southern New Jersey and Southern Pennsylvania there may be more clouds around. Monday will be warm with highs in the 80s inland and cooler 70s along the coast.
There is a chance that a little rain might reach southernmost New Jersey Monday evening but that is about as far north as it gets. Dry weather continues for much of next week with little or no rain forecast. Warmer than normal temperatures will likely take hold as well for much if not all of next week.
MANY THANKS TO TROPICAL TIDBITS FOR THE USE OF MAPS
Please note that with regards to any severe weather,  tropical storms, or hurricanes, should a storm be threatening, please consult your local National Weather Service office or your local government officials about what action you should be taking to protect life and property.
(Amazon is an affilate of Meteorologist Joe Cioffi & earns commissions on sales.)