Memorial Day Terrific Weather Day Sunshine Tuesday Through Friday Unsettled
We are on our way to a terrific weather day with sunshine, low humidity, and temperatures in the middle 70s to lower 80s. There are no weather issues to worry about today other than a few passing clouds. It is no doubt a very good end to the Memorial Day Holiday weekend. The satellite picture shows a nice cut out of clear skies over much of the Northeast southward into the Northern Middle Atlantic. We see some leftover blow off cloud cover from thunderstorms across Maryland down to Coastal Virginia and that is just about it.
SATELLITE

REGIONAL RADAR

Radars will take a breather today after being busy yesterday with a few thunderstorms. We won't have that happening today anywhere close by. We should see a clear start to tonight though some clouds will likely arrive by morning with most lows in the 50s. We have noticed models change somewhat going into Tuesday with the next frontal boundary setting up a little further to the north. Rather than putting us in an an onshore flow, this puts us in more of a warm front/cold front battle. If we wind up more on the warm southern side of the frontal boundary it puts us at risk for severe weather later Tuesday and again Wednesday and Thursday.
This creates also a high temperature forecast dilemma for Tuesday where we will see a rather wide range of temperatures from the 60S across Southern New England to Long Island & New York City to the 80s in South Jersey & Southeastern Pennsylvania and the 70s somewhere in between.
As far as the chance for showers and thunderstorms are concerned they will be there for both Tuesday and Wednesday with this frontal boundary so close by. Thunderstorms and possible some severe ones are certainly possible in the risk zone indicated above. We will play wash rise repeat on Wednesday until the frontal boundary pushes a little further north and that likely happens on Thursday.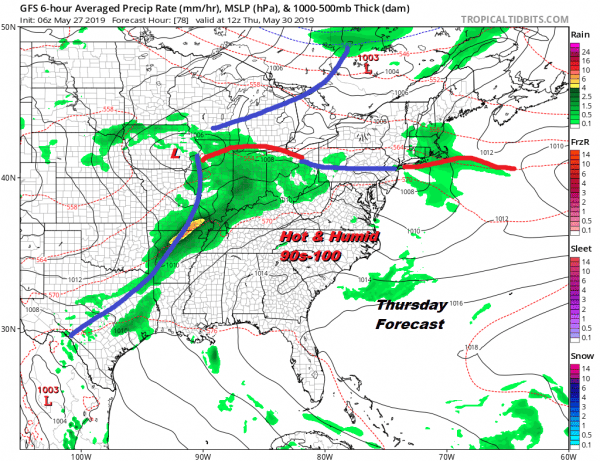 Thursday will be very warm and humid with some sunshine. Highs in most places will be in the 80s to near 90 degrees. Thursday night brings a cold front through from the west and that puts us at risk for showers and thunderstorms yet again. The front passes and weather conditions improve for Friday with some sunshine. Actually i have an optimistic view for Friday through Sunday in general wear it might not necessarily be picture perfect but it may be nice of the enough most of the time. Right now the be is some sunshine Friday and Saturday with perhaps a few scattered showers early Sunday morning (if at all). and then some sunshine on Sunday.
MANY THANKS TO

TROPICAL TIDBITS

FOR THE USE OF MAPS
Please note that with regards to any tropical storms or hurricanes, should a storm be threatening, please consult your local National Weather Service office or your local government officials about what action you should be taking to protect life and property.