Memorial Day Holiday Weekend Mostly Rain Free Except Saturday  & Sunday Night


While there still could be some pop up downpours or a thunderstorm between now and midnight it would seem that the line of thunderstorms has zapped all the energy out of the atmoosphere. If that is the case we may be done here though we will keep an eye on the radar between now and midnight. we can look forward to improving weather conditions overnight. A cold front moves through around midnight and skies will clear out by morning. Everything seems to be moving right along here with no complications. Morning lows will be in in the 50s with some 40s in the cool spots north and west of the coast.
SATELLITE

REGIONAL RADAR

Radars are showing the cold front moving along as the thunderstorms have passed to the east. Low pressure will be developing in the Gulf of Maine and the regional radar is showing showers and some thunderstorms up in New England but for us the rains are done and we will see the radars go dark right through the daytime Saturday.
LOCAL RADAR NEW YORK CITY
LOCAL RADAR PHILADELPHIA

There are no changes whatsoever to my weather outlook for Friday through Monday. Much of the time is rain free. Friday which will be a nice day with lots of sunshine, gusty winds and temperatures in the 70s. It will be a perfect getaway day with no weather issues if you are traveling for the Memorial Day holiday weekend.
Our outlook for the weekend remains unchanged and optimistic for the most part. The general weather theme for the weekend is that it is will be dry most of time and certainly during the day. Shower and thunderstorm threats will occur overnight Saturday night and again Sunday night. Monday will be a good day with sunshine after some early morning clouds. This actually is a very good outcome for a weekend that historically is NOT the best weekend when it comes to weather. Saturday we will see sunshine mixing with some afternoon clouds. Highs will be in the 70s to near 80 with 60s along the coast as there may be a south wind issue again.
Saturday night brings a cold front. It looks like showers and thunderstorms will be confined during the overnight period and be gone by daybreak. Sunday will be the warmest of the three days with sunshine and highs reaching the 80s in many areas.
Sunday night brings another front and another chance for showers and thunderstorms We might see some of those thunderstorms widely scattered during the day and a bit more numerous at night until the front passes. This sets up for a nice Memorial Day from start to finish.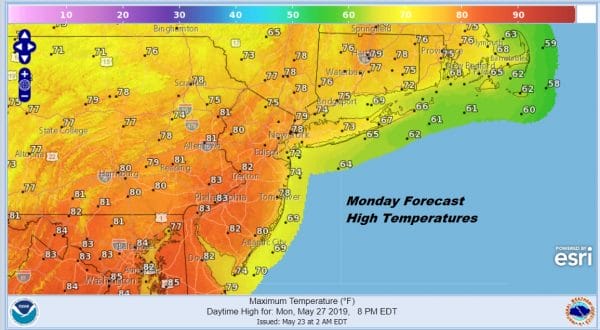 Expect sunshine for Monday with highs in the mid 70s to lower 80s. Over the weekend if you are shore bound especially on Saturday, be prepared for much cooler conditions. Being on the beach probably means dealing with local sea breezes that will keep temperatures much cooler at the shore. Have a windbreaker handy just in case. Sunday might afford the best changes for limited sea breeze action.
MANY THANKS TO

TROPICAL TIDBITS

FOR THE USE OF MAPS
Please note that with regards to any tropical storms or hurricanes, should a storm be threatening, please consult your local National Weather Service office or your local government officials about what action you should be taking to protect life and property.