Memorial Day Hinges On Tropical System
Another Hot Very Warm Day
Watch for Pop Up Storms
Memorial Day Hinges On Tropical System
It is another very warm afternoon across the entire area. In fact for some places this will be the third 90 degree day in a row which technically makes it a heatwave. I have always preferred the 5 day heatwave definition but they lowered it to 3 days some years ago. The satellite loop also shows the tropical system off the southeast coast which has become better organized overnight and this morning. An Air Force plane is en route to investigate to see if a tropical depression is forming. Whether it develops or not, weather models seem to want to now drag that moisture up here late Sunday night into Monday. This puts Memorial Day now in some jeopardy.
Memorial Day Hinges On Tropical System Regional Radar

Meanwhile we are seeing some pop up showers and thunderstorms showing up and there could be a few running around late this afternoon and this evening. Most places probably won't see anything as this looks more like they will be scattered in nature rather than widespread development. There is no front nearby to create widespread activity. Just watch the skies in case it becomes threatening. Coastal areas like Long Island might be able to avoid all this entirely.
Memorial Day Hinges On Tropical System Local Radars
We will probably do a repeat performance of today both Saturday and Sunday with inland highs near or just over 90 and coastal areas near or just over 80 especially where there is a south wind.
Sunday night and Memorial Day Hinges On Tropical System off the southeast coast. Weather models are bringing a cold front through on Monday which will have a few showers, however now models want to entrain the tropical moisture from the tropical system and bring those rains up here.
GFS MODEL MONDAY AFTERNOON SURFACE MAP
NAM MODEL MONDAY AFTERNOON SURFACE MAP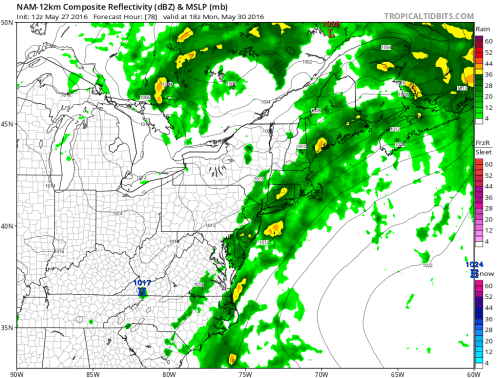 Both the GFS and the NAM model show rain here Monday morning into the afternoon until the cold front moves out. The GFS has a remnant circulation left from the tropical system. So a lot of this will hinge on what the tropical system does or doesn't do. We will know a little more later today when the plane reports its findings.
FiOS1 News Weather Forecast For Long Island
FiOS1 News Weather Forecast For New Jersey
FiOS1 News Weather Forecast For Hudson Valley
LATEST JOESTRADAMUS ON THE LONG RANGE
Weather App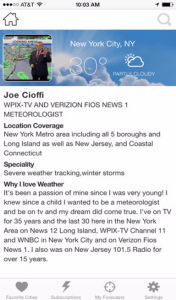 Don't be without Meteorologist Joe Cioffi's weather app. It is really a meteorologist app because you get my forecasts and my analysis and not some automated computer generated forecast based on the GFS model. This is why your app forecast changes every 6 hours. It is model driven with no human input at all. It gives you an icon, a temperature and no insight whatsoever.
It is a complete weather app to suit your forecast needs. All the weather information you need is right on your phone. Android or I-phone, use it to keep track of all the latest weather information and forecasts. This weather app is also free of advertising so you don't have to worry about security issues with your device. An accurate forecast and no worries that your device is being compromised.
Use it in conjunction with my website and my facebook and twitter and you have complete weather coverage of all the latest weather and the long range outlook. The website has been redone and upgraded. Its easy to use and everything is archived so you can see how well Joe does or doesn't do when it comes to forecasts and outlooks.
Just click on the google play button or the apple store button on the sidebar for my app which is on My Weather Concierge. Download the app for free. Subscribe to my forecasts on an ad free environment for just 99 cents a month.
Get my forecasts in the palm of your hand for less than the cost of a cup of Joe!
MENTION JOE CIOFFI AND GET A 5% DISCOUNT