Maria Strengthens 65 MPH Hurricane Watch Leewards
Maria Strengthens 65 MPH Hurricane Watch Leewards
A Hurricane Watch is in effect for…
* Antigua, Barbuda, St. Kitts, Nevis, and Montserrat
* Guadeloupe
* Dominica
* Saba and St. Eustatius
* St. Maarten
* Anguilla
A Tropical Storm Watch is in effect for…
* St. Lucia
* Martinique
* Barbados
* St. Vincent and the Grenadines
Tropical Storm Maria continues to become better organized and maximum sustained winds are now estimated at 65 mph. The environment remains highly conducive for development. The storm's inner core continues to grow, outflow is excellent, wind shear is very low, and water temperatures are in the mid to upper 80s. Maria should be a hurricane later today and it could become a major hurricane as early as Monday as it moves over the Leeward Islands. Maria will directly impact the same islands that Irma did as a category 5 hurricane just 2 weeks ago and Maria may also do it as a major hurricane.
Virtually ever hurricane track model takes Maria across the Northern Leeward Islands and then across the British and US Virgin Islands with weather conditions deteriorating during the day Tuesday and then to Puerto Rico on Wednesday and the Domincan Republic on Thursday. Model tracks begin to veer Maria a little more to north as we go forward and most of them have it very close to or passing just north of the Domincan Republic north coast. However those models also show a tight clustered high probably of a direct pass over the Leewards, Virgin Islands and Puerto Rico and threat level for those islands of getting a direct hit from a major hurricane is increasing.
NATIONAL HURRICANE CENTER FORECAST FOR MARIA
The wide view satellite shows the tropics are in overdrive with 1 hurricane and 2 tropical storms in view. Tropical Storm Lee remains well out to the east on the lower right as a minimal tropical storm and no threat to land at the moment. It is enough to have to pay attention to 2 of these let alone 3.
With regards to Maria in the long range the situation is rather complex. At least through the next 5 days the path seems pretty straight forward as Maria is begin steered by a strong upper air ridge in the Atlantic and there do not appear to be any holes in that ridge for Maria to punch through.
GFS UPPER AIR WEDNESDAY 2PM 9/20/2017
Late this week Maria's path will hinge on what Hurricane Jose does. Latest weather models show Jose orchestrating another loop and doing it much closer to the coast. This should create an opening for Maria to respond to but how it responds to this opening remains to be seen.
EUROPEAN JET STREAM PATTERN SUNDAY SEPTEMBER 24, 2017
The weather pattern across the Eastern United States is highly unusual with a huge upper blocking ridge over the Great Lakes into Southeastern Canada. The ridge in the Atlantic is nosed to the coast. A remnant Jose is sitting just offshore our coastal which creates a weakness along the Eastern Seaboard. The questions revolve around how weak is that weakness and and strong is that Atlantic ridge. If Jose is not there and takes a different route it would create a stronger Atlantic ridge and drive Maria more to the west. If the Jose influence is stronger it may create enough of a weakness to send it northward up the east coast or offshore. Obviously 1 week from now..too many variables to even begin to complicate things but I want to at least put the players on the table as this meteorological chess game gets underway.
In the meantime for the Coastal Middle Atlantic and Coastal Northeast we have Hurricane Jose to look at and that has become much more complicated as we have weather models overnight shifting westward and increasing the threat for tropical storm conditions beginning on Tuesday. Tropical Storm Watches may be required later today for parts of the Northeast and Northern Middle Atlantic States. JOESTRADAMUS has more on this in his latest post.
MANY THANKS TO TROPICAL TIDBITS FOR THE WONDERFUL USE OF THE MAPS
                                                          GET JOE A CIGAR IF YOU LIKE
Weather App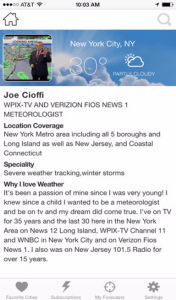 Don't be without Meteorologist Joe Cioffi's weather app. It is really a meteorologist app because you get my forecasts and my analysis and not some automated computer generated forecast based on the GFS model. This is why your app forecast changes every 6 hours. It is model driven with no human input at all. It gives you an icon, a temperature and no insight whatsoever.
It is a complete weather app to suit your forecast needs. All the weather information you need is right on your phone. Android or I-phone, use it to keep track of all the latest weather information and forecasts. This weather app is also free of advertising so you don't have to worry about security issues with your device. An accurate forecast and no worries that your device is being compromised.
Use it in conjunction with my website and my facebook and twitter and you have complete weather coverage of all the latest weather and the long range outlook. The website has been redone and upgraded. Its easy to use and everything is archived so you can see how well Joe does or doesn't do when it comes to forecasts and outlooks.
Just click on the google play button or the apple store button on the sidebar for my app which is on My Weather Concierge. Download the app for free. Subscribe to my forecasts on an ad free environment for just 99 cents a month.
Get my forecasts in the palm of your hand for less than the cost of a cup of Joe!