Major Storm Sunday Sunday Night
Major Storm Sunday Sunday Night
European Paints Stronger Storm
All of today's weather models show a major storm developing and moving from the Southeast coast of the US north northeastward into Connecticut. The GFS shifted to the west on today's model run. Right now based on timing and track Southern New England & Long Island northward will probably see the worst of it regarding wind and rain. For New Jersey southward to Delaware there will be some impact with rain and some wind along the coast. A lot will depend on the actual strengthening phase which will occur as it moves from just offshore the Virginia coast Sunday evening to just inland in Southern New England by 2am Monday. This system will be moving very fast which is good news because this lessens the wind impact and minimizes any tidal issues. An approaching cold front, a deep upper trough swinging around to the northeast from the Ohio & Tennessee Valley, and a tropical connection with a disturbance coming out of the Northwest Caribbean all make this a complicated scenario.
EUROPEAN WEATHER MODEL SUNDAY MORNING
GFS WEATHER MODEL SUNDAY MORNING
The European model and the GFS model are almost identical on the surface at 8am Sunday morning showing a low southeast of Charleston South Carolina. However the GFS seems to be having difficulty in how it intensifies the low as it moves northward. It seems to suddenly have several centers and then swings out the low to the east before hooking it back to the northwest. This will lessen the wind issue for awhile until the low goes by and then winds will become strong from the Northwest. The European takes the low and intensifies it straight through dropping the pressure rapidly from Sunday to Monday morning.
EUROPEAN MODEL MONDAY MORNING 8AM
It would seem to me that the European model makes more sense with one low just exploding as the strong upper trough lifts up. Should the European be correct there will be winds gusting well in excess of gale force over a large area beginning late Sunday and lasting into Monday afternoon. The GFS would imply the strong winds would not kick in until the low goes by and that the winds will strongest on the back side. Both model produce a fair amount of rain on the order of 2 to 4 inches with some locally higher amounts. Lesser amounts as you go south of NYC.
GFS RAIN FALL SUNDAY 2AM TO MONDAY 2AM
If this rainfall forecast map is right Southern New England could see some serious flooding since they had substantial rain the last few days. The European would have 2 to 3 inches of rain east of the low track and 4 to 6 inches west of the low track.
Right now I think it is pretty safe to say that we are going to see a major storm move up the coast and it is going to cause problems from Pennsylvania to Southern New England. The European tends to do better in these situations so we will lean toward that model which paints a stormier picture for most of the area.
MANY THANKS TO TROPICAL TIDBITS FOR THE WONDERFUL USE OF THE MAPS
GET JOE A CIGAR IF YOU LIKE!
FiOS1 News Weather Forecast For Long Island
FiOS1 News Weather Forecast For New Jersey
FiOS1 News Weather Forecast For Hudson Valley
NATIONAL WEATHER SERVICE SNOW FORECASTS
LATEST JOESTRADAMUS ON THE LONG RANGE
Weather App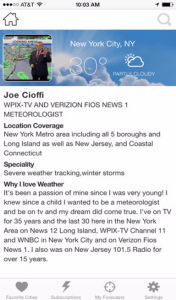 Don't be without Meteorologist Joe Cioffi's weather app. It is really a meteorologist app because you get my forecasts and my analysis and not some automated computer generated forecast based on the GFS model. This is why your app forecast changes every 6 hours. It is model driven with no human input at all. It gives you an icon, a temperature and no insight whatsoever.
It is a complete weather app to suit your forecast needs. All the weather information you need is right on your phone. Android or I-phone, use it to keep track of all the latest weather information and forecasts. This weather app is also free of advertising so you don't have to worry about security issues with your device. An accurate forecast and no worries that your device is being compromised.
Use it in conjunction with my website and my facebook and twitter and you have complete weather coverage of all the latest weather and the long range outlook. The website has been redone and upgraded. Its easy to use and everything is archived so you can see how well Joe does or doesn't do when it comes to forecasts and outlooks.
Just click on the google play button or the apple store button on the sidebar for my app which is on My Weather Concierge. Download the app for free. Subscribe to my forecasts on an ad free environment for just 99 cents a month.
Get my forecasts in the palm of your hand for less than the cost of a cup of Joe!