Major Storm Sunday Night Monday Severe Weather Risk Raised Northeast Mid Atlantic
High Wind Watch Delaware to New England
The Storm Prediction Center in an action not really all that surprising is raising the risk area for severe weather in the Northeast. They bring slight risk north cutting through the western half of New Jersey northward to the Pennsylvania NY state line. Marginal risk is expanded north and northeastward into Long Island, the Hudson Valley and the Catskills. The slight risk cuts the state of Pennsylvania in half and runs south into Virginia. However before Monday we have Easter Sunday's severe weather risk area for the Gulf States, the Southeast and the Tennessee and this is going to be a widespread outbreak. The probability of strong tornadoes popping up is elevated for sure.
Meanwhile our nice weather day wraps up with skies starting out tonight mostly clear. High pressure is moving off the South Atlantic coast and late tonight high clouds will be rolling in from the west. Temperatures today topped out in the 50s to near 60 in some places. We will settle in the mid 30s to lower 40s overnight. The regional and local radars remain quiet.
SATELLITE

REGIONAL RADAR

There are no important changes in the weather for Easter Sunday. We will see increasing and thickening clouds. The winds will turn to the south. Temperatures will reach into the 60s away from the ocean. No rain is forecast until Sunday night as an intensifying storm moves out of the Southern Plains and heads into the Great Lakes.
Afternoon weather models today continue to re-enforce the idea of a major storm heading to the Great Lakes. The gradient tightens Sunday night and as the rain arrives so do increasing southerly winds. High Wind Watches are posted for a large area from Delaware north through all of New Jersey, NYC, the Hudson Valley and Southern New England. Winds could gust to 60 mph or higher especially in thunderstorms.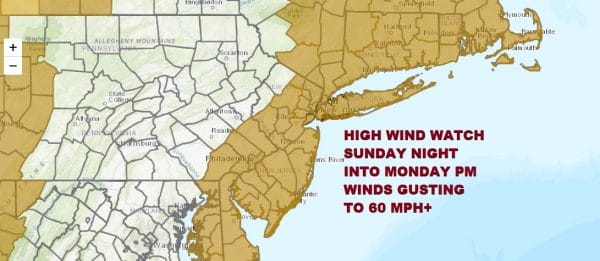 Rain and thunderstorms will be arriving Sunday night and ending Monday afternoon when the cold front passes. Rainfall amounts will be in the 1 to 2 inch range with some locally higher amounts in thunderstorms.
MANY THANKS TO TROPICAL TIDBITS FOR THE USE OF MAPS
Please note that with regards to any severe weather,  tropical storms, or hurricanes, should a storm be threatening, please consult your local National Weather Service office or your local government officials about what action you should be taking to protect life and property.