DOWNLOAD MY NEW FREE JOESTRADAMUS WEATHER APP FOR ALL DEVICES
THE APP IS ABSOLUTELY FREE TO ALL BUT CONSIDERING SUBSCRIBING TO PATREON FOR A WEATHER EXPERIENCE FREE OF ADS, EXCLUSIVE VIDEOS FOR MEMBERS ONLY AND MUCH MORE…STARTS AT $2 A MONTH..MESSAGE ME AT ANY TIME
Major Storm Great Lakes Rain Saturday Night Sunday
Very Windy Sunday Night Monday
The March lion is looking to roar a few days early as a major storm is going to develop and bring near blizzard conditions to the Upper Midwest. This storm is already doing its thing in Arizona where much of the state is under a winter storm warning and those warnings extend all the way south to the Mexico border! Snow measured in feet is already underway. Flagstaff Arizona will see 2 to 3 feet of snow from this while Sedona which normally doesn't see much snow is going to get hammered with up to 2 feet of snow! It is remarkable yet it isn't since the trough in the west is so deep and the Pacific jet continues to roar.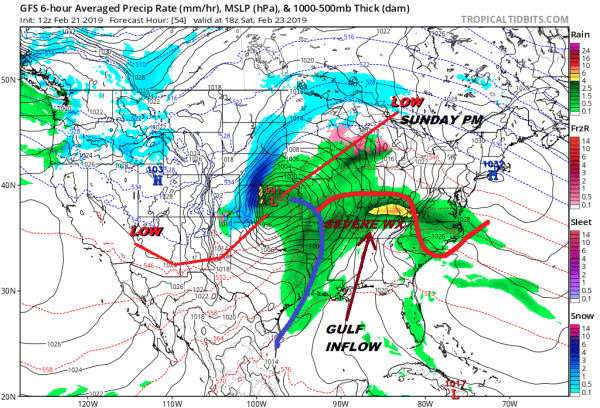 For us this means rain coming in from south to north late Saturday and Saturday night. If that warm front gets through the cold front will trigger off downpours and even some possible thunderstorms for some as temperatures head to the 50s and perhaps the 60s. Once the front passes the pressure gradient tightens up which means we dry up and basically blow away Sunday night into Monday with fierce northwest winds and colder air returning.
SHORT TERM PATTERN CHANGE NEXT WEEK
This major storm is the catalyst for a short term pattern change next week as the trough in the west pulls out and then develops in the Eastern US. This I believe is a short term change for the first week or two of March before the roaring Pacific jet probably comes back. During this period in early March the upper air pattern would be at least on paper more favorable for one last winter weather event but there is nothing here that suggests anything is on the table. Energy from the northern jet will be diving southward from time to time but this could also mean nothing more than a couple of cold fronts and wind shifts from cold to briefly warmer to cold again. Weather models spit out snow storms on one run and take them away the next. Look for that to continue in the coming days and I would not waste much energy on the long range models until this pattern shifting major storm plays out.
MANY THANKS TO

TROPICAL TIDBITS

FOR THE USE OF MAPS
Please note that with regards to any tropical storms or hurricanes, should a storm be threatening, please consult your local National Weather Service office or your local government officials about what action you should be taking to protect life and property.