Major Storm Gets Underway Flood Watch Coastal Flood Warning
Wind Advisories Flash Freeze Possibility

A major storm heading for the Great Lakes is having impacts from the Rockies to the East Coast. It has everything you can think of for a winter storm and some of it is quite dramatic. It all gets underway later today here in the Northeast and Northern Mid Atlantic. We have a slew of watches warnings and advisories. Flood Watches are up for much of New Jersey with Coastal Flood Warnings and advisories from New Jersey to NY Harbor to Long Island and Coastal Connecticut. Wind Advisories are posted from NYC and the surrounding New Jersey counties east into Southern New England and a High Wind Warning is up for Southeastern New England. Gale and Storm Warnings are up for the coast.
SATELLITE

WEATHER RADAR

Clouds are increasing from south to north. Rain is expanding on the radar to the south and moving northward. It will develop from south to north arriving in Southeast Pennsylvania this morning and in Southern New England late today. Highs today will be in the 40s.
Rain will be heavy at times tonight and we will see 1.5 to 2.5 inches of rain and some areas could get even more as there might be some thunderstorms in the mix overnight. Winds will increase overnight from the south with frequent gusts reaching 50 mph or more especially from NYC east to Southeast New England. This will lead to moderate to, in some places, major coastal flooding along the south facing shorelines on Long Island to Northern New Jersey as well as the coast of Southern New England. The highest tide will be Friday morning.
Temperatures overnight will rise through the 40s and into the 50s. Now comes the drama for Friday. The rain exits and there may be a short pause before a cold front comes whipping through around midday and with that, a line of showers and perhaps a thunderstorm. Then winds shift to the northwest and increase again with gusts to 50 mph or more.
t
In comes the cold air in a rush as temperatures drop from the low and mid 50s around midday to the 20s by late afternoon early evening and into the teens shortly after that. There is a chance we could see a brief change or a burst of snow on the backside here but it won't make much of a difference. Any standing moisture is likely to freeze on road surfaces though the wind will help dry off those surfaces. Northwest winds will gust to 50 mph Friday afternoon right into Saturday morning. Skies will clear and Saturday morning lows will be in the teens and single digits with wind chills will be down near zero.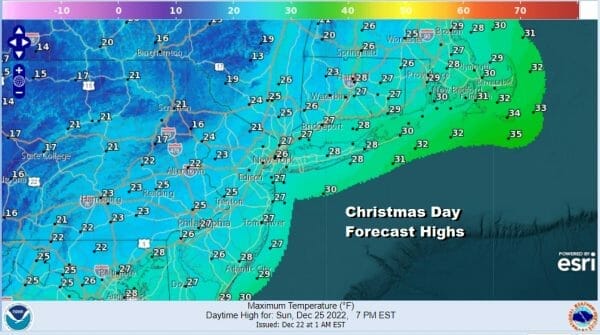 Saturday Christmas Eve will be very cold and windy with sunshine but high temperatures will only be in the upper teens to near 20 inland and mostly lower 20s elsewhere. Sunday Christmas Day will be very cold with less wind and sunshine. Higha again will be in the 20s. The good news is that this pattern is breaking down and we will be going into a warmer and mostly storm free pattern later next week.
Please note that with regards to any severe weather,  tropical storms, or hurricanes, should a storm be threatening, please consult your local National Weather Service office or your local government officials about what action you should be taking to protect life and property.