Major Storm Aims For California 70s NY NJ SEPA Thursday
Major Storm Aims For California 70s NY NJ SEPA Thursday
SATELLITE LOOP

This morning on the satellite loop we continue to be dry in the Eastern US as low pressure clouds and rain move northward from the Gulf of Mexico. In the West we have the latest storm moving inland this morning and weather conditions across the west will begin to slowly improve. However another major storm is coming on the scene on the satellite loop and this poses to be another big event for much of California especially Southwest California this weekend. This parade of major systems will translate their way across the country and eventually effect the East Coast in some form or another. The first event however will be in the form of record high temperatures here in the 60s and 70s for Thursday.

First things first is today where we have sunshine that will give way to arriving clouds. We will also have an ocean wind so inland areas could reach the 50s however for the coasts of New Jersey, Connecticut, and certainly Long Island, temperatures will be struggling today to get out of the 40s.
REGIONAL RADAR

As we transition over to a warmer air mass and a west southwest flow over the next few days, we could see at worst a passing shower late tonight or early Wednesday. Otherwise its just clouds with some breaks of sun with temperatures in the mid 50s to lower 60s.
THURSDAY FORECAST HIGHS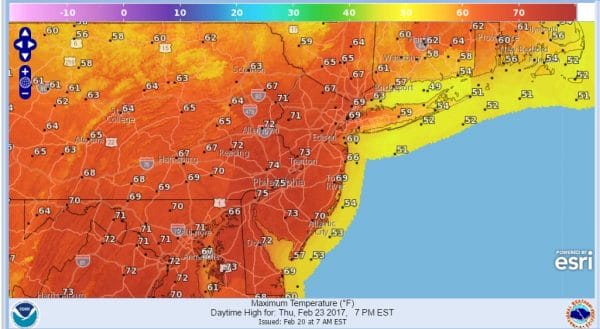 Thursday its west winds and some sunshine which should take temperatures up to the mid 60s to lower 70s which would be record highs again for many cities. Along the coast the only issue is the sea breeze which is tough to fight this time of year with a 40 degree ocean.
The major storm that came into the west yesterday is going to be headed for the Great Lakes setting us up for a warm front cold front combination here Friday into Saturday. This could lead to some strong thunderstorms on Saturday as the front goes by. Temperatures will remain very warm through Saturday before it temperatures turn lower on Sunday.
Meanwhile weather models are showing another major storm could be coming into California and it could be another big rain and wind producer for Southwest California as far south as San Diego. Coming on the heels of last week's storm, this looks to bring heavy rains and snows up and down the entire state. Eventually this storm will come eastward and in one form or another as the weather pattern looks very active as we move into the first week of March.

GET JOE A CIGAR IF YOU LIKE 
SNOW REMOVAL COMPANIES FOR YOUR WINTER NEEDS
             LONG ISLAND                                ROCKLAND COUNTY                   Connecticut
     ROCKLAND COUNTY                         TRI STATE SNOW REMOVAL                           JOHNSTOWN PA
FiOS1 News Weather Forecast For Long Island
FiOS1 News Weather Forecast For New Jersey
FiOS1 News Weather Forecast For Hudson Valley
LATEST JOESTRADAMUS ON THE LONG RANGE
Weather App
Don't be without Meteorologist Joe Cioffi's weather app. It is really a meteorologist app because you get my forecasts and my analysis and not some automated computer generated forecast based on the GFS model. This is why your app forecast changes every 6 hours. It is model driven with no human input at all. It gives you an icon, a temperature and no insight whatsoever.
It is a complete weather app to suit your forecast needs. All the weather information you need is right on your phone. Android or I-phone, use it to keep track of all the latest weather information and forecasts. This weather app is also free of advertising so you don't have to worry about security issues with your device. An accurate forecast and no worries that your device is being compromised.
Use it in conjunction with my website and my facebook and twitter and you have complete weather coverage of all the latest weather and the long range outlook. The website has been redone and upgraded. Its easy to use and everything is archived so you can see how well Joe does or doesn't do when it comes to forecasts and outlooks.
Just click on the google play button or the apple store button on the sidebar for my app which is on My Weather Concierge. Download the app for free. Subscribe to my forecasts on an ad free environment for just 99 cents a month.
Get my forecasts in the palm of your hand for less than the cost of a cup of Joe!