Major Snow Ice Storm Midwest Brings Record Temperatures to the Northeast This Weekend
We are enjoying a nice sunny after with much less wind but the temperatures are in the cold low and mid 30s which is where we are peaking today. The good news is that the cold shot i quick and is going to be moving out tonight. Some high clouds are already coming in from the west as a sign of warmer air arriving. We will likely see temperatures hold up tonight in the mid 20s to lower 30s or perhaps even higher than that in a few spots with nothing more than just some high clouds.
SATELLITE

REGIONAL RADAR

Radars are nice and quiet here from Northeast Virginia to Southern New England and will likely remain so for the most part right into Saturday night. High pressure near Bermuda (yes you can have a Bermuda high in January) will be creating a warm southwest flow along the East Coast. We remain on course for reaching the upper 40s to mid 50s on Friday. Clouds will limit the amount of sunshine.
tAnytime you are dealing with record high temperatures this time of year it is highly likely that someone is paying the price somewhere. Two places at risk will be the Midwest, Northern New York, & New England this weekend with a major snow and ice storm.  Low pressure from Texas heads to the Lower Lakes and cold air in Canada locks its self in from the Great Lakes to Northern New England.
The other big storm here will be an unusual severe weather outbreak across the Gulf States. A rare moderate risk of severe weather is being indicated and there could be a sizable tornado outbreak from this. The warm air has to go somewhere and with that high offshore, we stand to benefit from this temperature wise with highs into the 60s and possible records being set.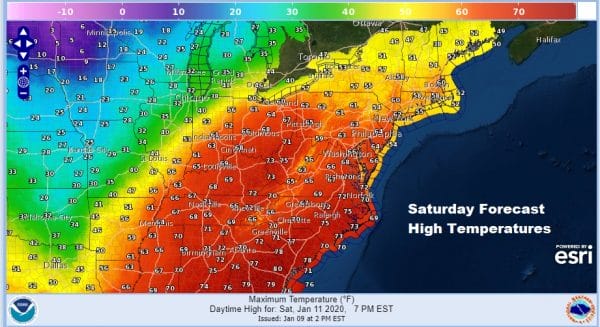 The tough part this time of year when it gets this warm is to get some sun in the mix and unfortunately that may be tough on Saturday with clouds, patchy fog, and the slight risk for a shower. There is the chance for some showers and possibly a thunderstorm Saturday night as the cold front moves through. Sunday will start with a leftover shower early but we should break into some sunshine with highs in the 60s. We should cool down some early next week but still remain above average Monday. It may turn a little colder Tuesday and Wednesday with some precipitation possible. We will discuss this further tonight on the Joe & Joe Weather show as well as what looks like a change coming in the long range.
MANY THANKS TO TROPICAL TIDBITS FOR THE USE OF MAPS
Please note that with regards to any severe weather,  tropical storms, or hurricanes, should a storm be threatening, please consult your local National Weather Service office or your local government officials about what action you should be taking to protect life and property.