Major Ocean Storm Impacts Greater Well East of NYC Lower Impacts to the West
THE BIG AMOUNTS SHOWN BY SOME MODELS ARE NOT HAPPENING

Weather in 5/Joe & Joe Weather Show Latest Podcast
Major Ocean Storm Impacts Greater Well East of NYC Lower Impacts to the West
THE BIG AMOUNTS SHOWN BY SOME MODELS ARE NOT HAPPENING
The picture on this major ocean storm that is going to develop is becoming a little clearer this afternoon. THE BIG AMOUNTS SHOWN BY SOME MODELS ARE NOT HAPPENING. While there is still uncertainty regarding the track and amounts, the aggressive amounts being shown for areas west of NYC to me are overblown and should be cut back considerably. It appears that the risk for amounts over 10 inches in my opinion will be to the east of NYC with the highest amounts in Southeastern New England and perhaps extending back to Eastern Connecticut and possibly Eastern Long Island.
The snow forecast is now in the middle of the short and long range periods of the Weather Prediction Center. The map above is the probability of at least 2 inches for Friday night through Saturday morning and the map below is the chance for at least another 3 inches for Saturday into Saturday night. I think this forecast makes sense for now. However don't be shocked if this storm winds up further east with lower amounts everywhere. The area that WPC shows in the lighter blue on Saturday is a 50 to 80 percent chance for at least 3 inches and I think this area has a chance of seeing snow totals of 8 or more and the area in Southeastern New England in the purple area, there lies the best chance for 12 inches or more.
Looking at all the models I decided that the Canadian model offers the best idea here regarding how much snow falls. I used the liquid precipitation forecast amounts. The darkest blue is half an inch of liquid which normally would be 5 inches of snow. However this is going to be a powdery snow with temperatures down in the low and middle 20s except for Southeastern New England so I added a little puff factor and drew the lines accordingly.
Bear in mind that there is still some uncertainty at a number of levels but I believe best on the best information available to me at this time, this is a reasonable forecast. Double digit amounts shown by various snow maps floating around the social media swamp are completely unreasonable and not appropriate as a forecast.  A more specific early call map is available to those of you on Patreon.
SATELLITE

WEATHER RADAR

In the meantime, we have cold weather back into Friday with some sunshine this afternoon and temperatures in the cold 20s. Lows tonight will be in the teens and single digits. Highs Thursday will be in the 20s to near 30 with sunshine. Then we cloud up on Friday as low pressure develops off the Southeast coast Friday night and moves northeast up the coast on Saturday but remaining offshore by a fair distance.
The loop above starts at 3pm Friday and goes every 2 hours and then ends at 7pm Saturday evening. Note the sharp western edge of the snow shield. There will be a very sharp cut off somewhere near the Pennsylvania New Jersey border on Saturday so bear that in mind if you live in those areas. THERE IS ALSO A CHANCE THAT CUT OFF LINE COULD BE MUCH FURTHER TO THE EAST OFF THE COAST REDUCING AMOUNTS ESPECIALLY INLAND! You can go from a coating to a few inches or more over a matter of just 15 or 20 miles and that cut off could wind up being a little further east or west depending on the final track of the low. Below are National Weather Service snow forecast maps which update automatically when the NWS updates, usual at 4am and 4pm. Please check the time stamps to make sure you are looking at the correct time period since some areas to the north are experiencing snow tonight. Also if the map is blank, it is because they haven't updated it yet or it is out of range of this storm.
SNOW FORECAST MAPS
New York City, Ne NJ, HV, LI, Coastal Ct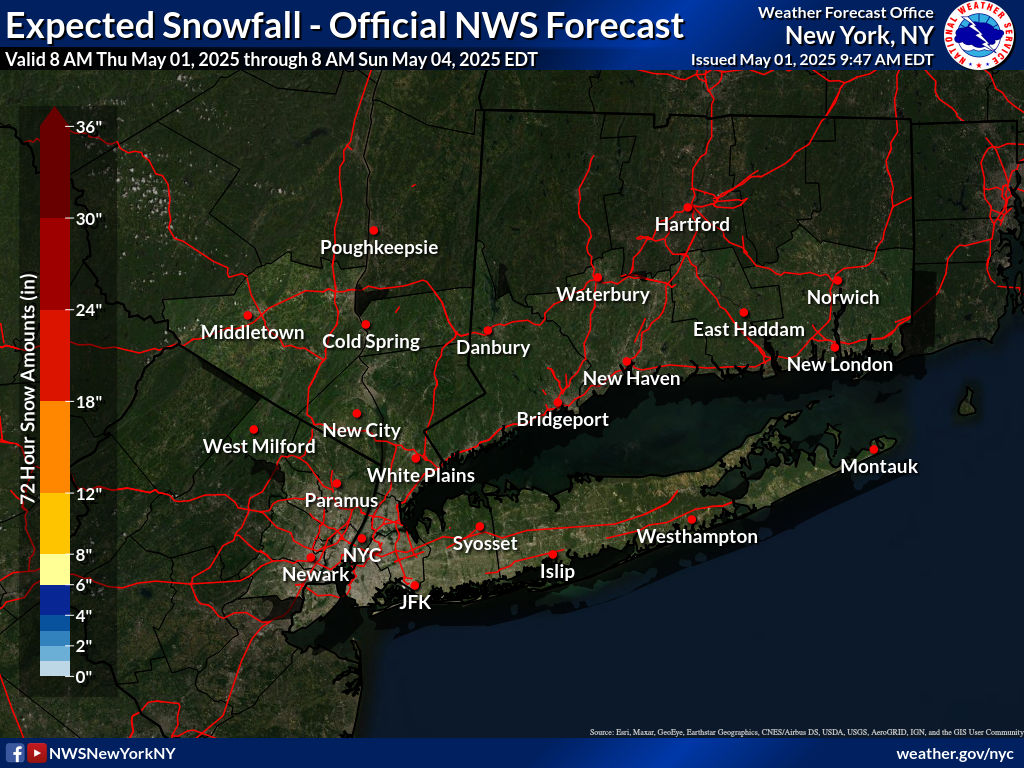 SOUTHEAST NEW ENGLAND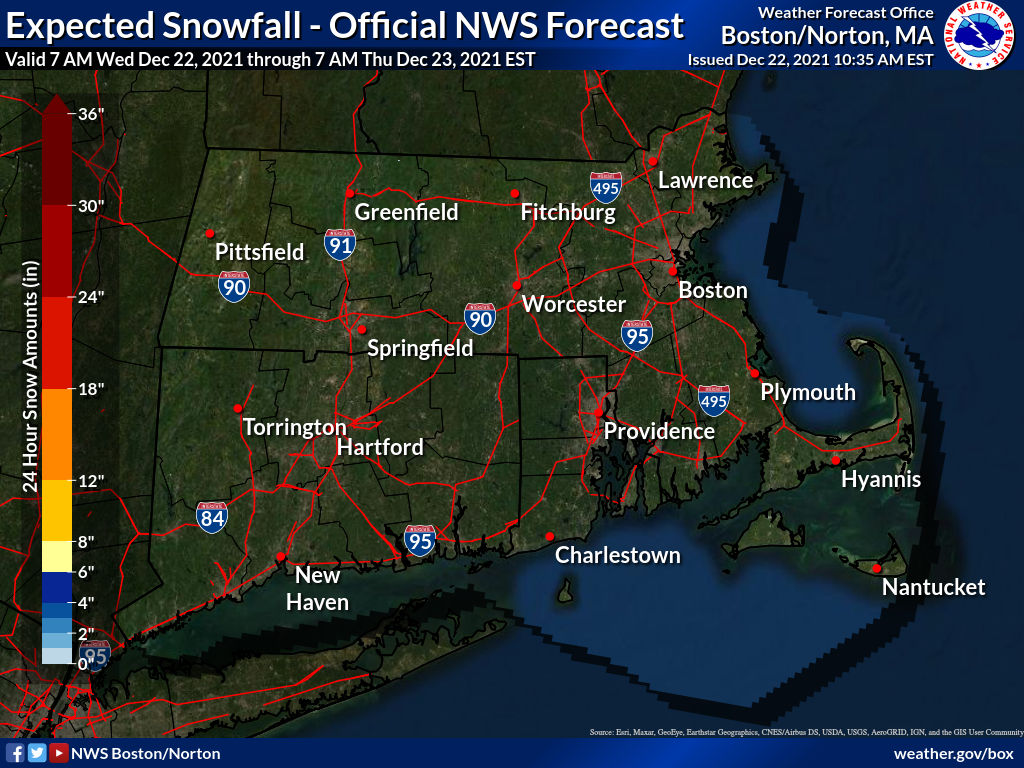 NEW JERSEY & PARTS OF NE PA
NORTHERN NEW ENGLAND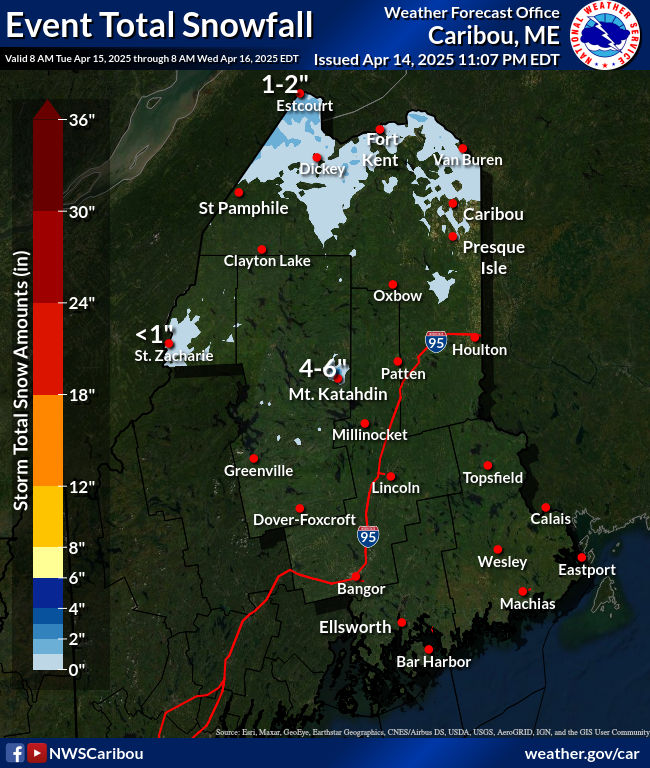 WESTERN NEW ENGLAND
MIDDLE AND UPPER HUDSON VALLEY
CENTRAL NEW YORK & NE PA
WESTERN NEW YORK
CENTRAL & SOUTH CENTRAL PA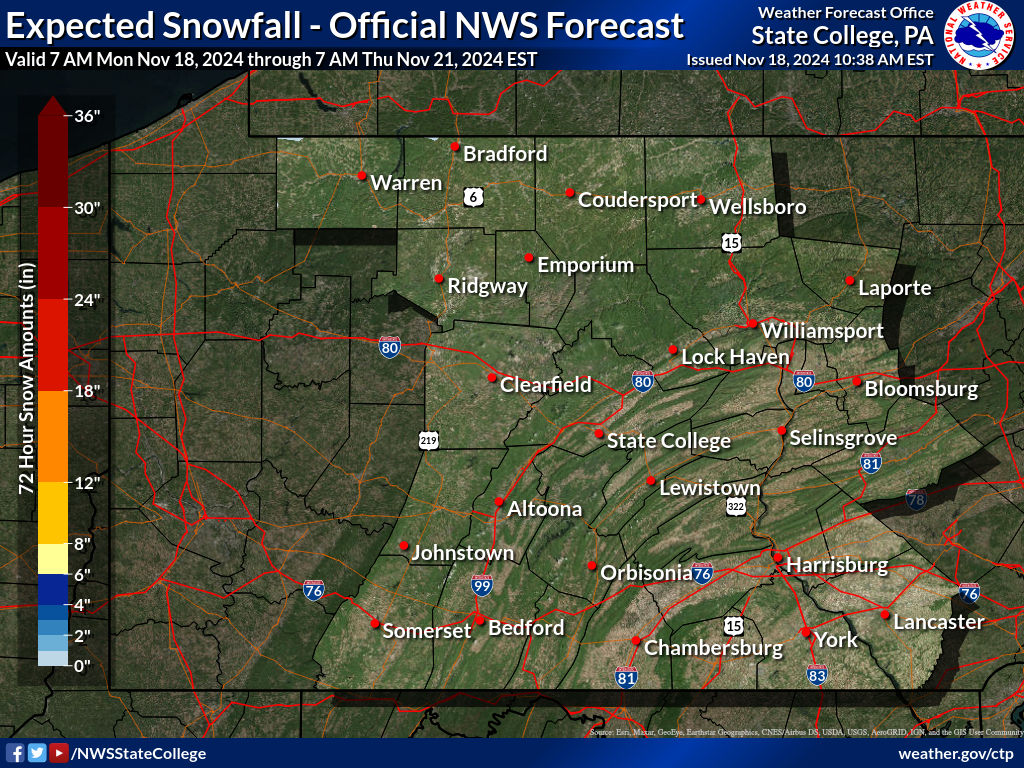 WESTERN PENNSYLVANIA EASTERN OHIO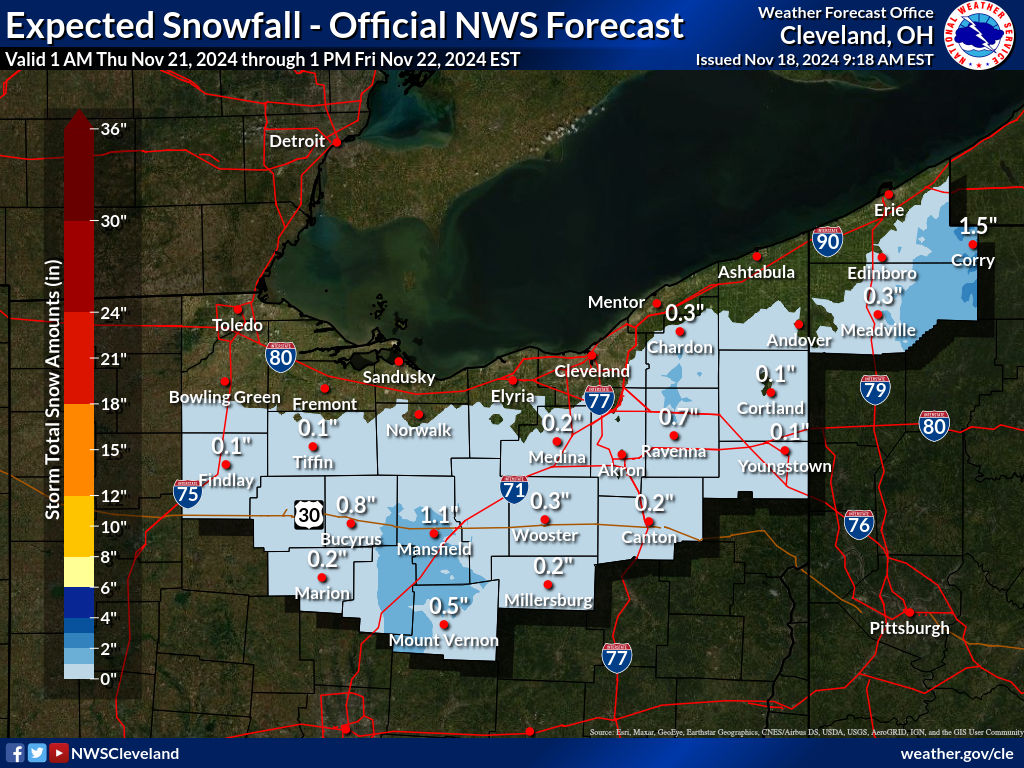 VIRGINIA & MARYLAND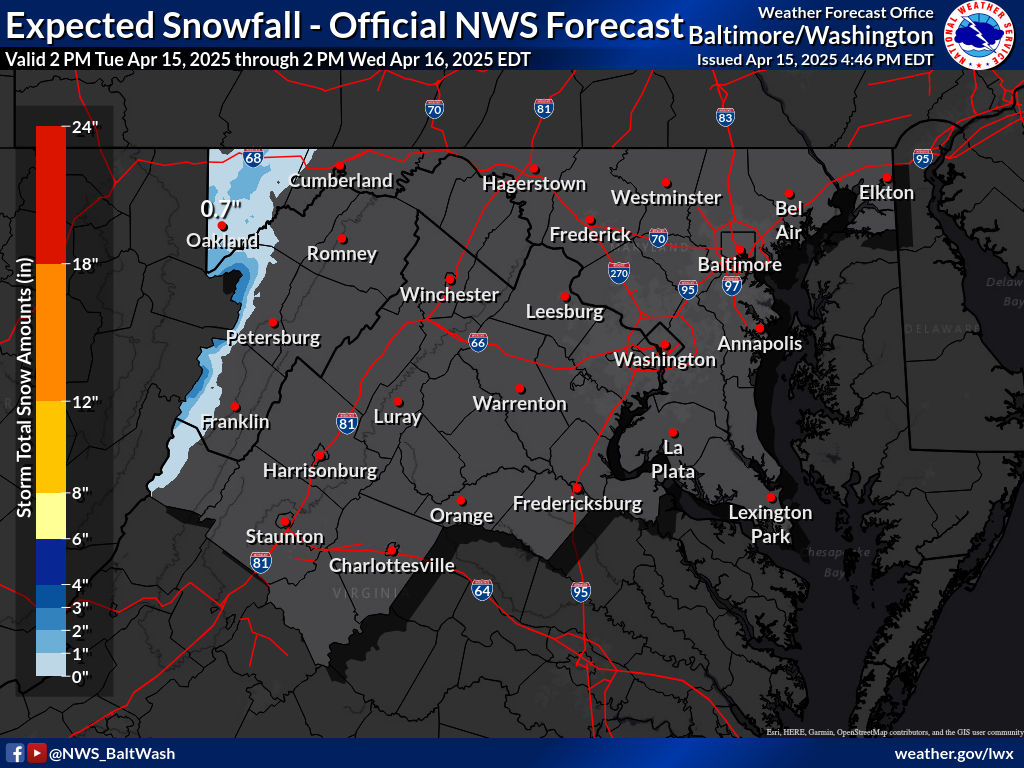 Please note that with regards to any severe weather,  tropical storms, or hurricanes, should a storm be threatening, please consult your local National Weather Service office or your local government officials about what action you should be taking to protect life and property.