Major Hurricane Laura 115 MPH Could Reach Category 4 Status Before Landfall
Laura was a category 1 hurricane 12 hours ago. Since then it has undergone rapid strenghtening. The pressure has dropped 30 mb in 12 hours. Highest winds have increased from 80 to 115 mph making this a category 3 hurricane. The high is well defined. The satellite presentation is excellent, We continue to see this strengthening through the day today. Laura is developing that classic look of a major hurricane where it begins to resemble the blade of a buzz saw.
LAURA SATELLITE

RADAR

As always with major tropical systems the weather the day before is actually almost perfect. Skies along the Northwest Gulf Coast are clear and they will see sunshine giving way to arriving clouds today before the bottom falls out in Laura's final approach tonight.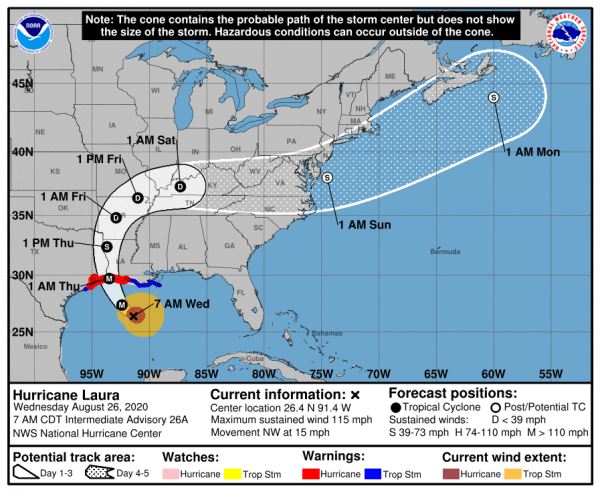 Hurricane Warnings continue from just west of Galveston to Intercoastal City Louisiana. Landfall continues to center on the area near the Texas/Lousiana state line some time around 2 ro 3am Thursday morning. Laura will likely be a major hurricane at landfall.
Once inland Laura will move northward and then turn eastward across the Ohio Valley. It will be hooking up with a strong frontal system that will be moving across the Great Lakes and into the Northeast. It looks like we will be getting showers and thunderstorms from this front and the remnants of Laura (to an extent) on Saturday. We will break that down in our local daily weather discussion that follows shortly.
MANY THANKS TO TROPICAL TIDBITS FOR THE USE OF MAPS
Please note that with regards to any severe weather,  tropical storms, or hurricanes, should a storm be threatening, please consult your local National Weather Service office or your local government officials about what action you should be taking to protect life and property.