Major Hurricane Franklin Rip Currents Rough Surf Coastal Flooding Next Few Days
Major Hurricane Franklin Rip Currents Rough Surf Coastal Flooding Next Few Days

We are moving through the last week of vacations for many folks as we head into the Labor Day holiday weekend. Major Hurricane Franklin which peaked in strength last night at 150 mph remains a category 4 hurricane. Franklin is not going to impact the East Coast directly however indirectly we will be seeing rough surf, rip currents, gusty winds along the shore, and coastal flooding at high tide. The coastal flooding will be also impacted by Wednesday night's full moon producing higher than normal tides. Coastal flood advisories are up from Delaware to Long Island for possible coastal flooding a high tides. These conditions will last through at least Thursday and possibly into Friday until Franklin gets far enough out to sea. Franklin will pass well to the west of Bermuda and well to the east of North Carolina today and tonight and then accelerate northeastward north of Bermuda and than out to sea.
SATELLITE WITH LIGHTNING STRIKES

WEATHER RADAR

Meanwhile weatherwise we have lots of clouds around but there are some breaks so we will have changeable skies and humid conditions today. There is the possibility of some scattered downpours and one or two thunderstorms developing later today and into tonight but they should be few and far between. Highs today will be in the 70s to around 80 degrees with an east wind off the ocean.
A cold front will be approaching tonight and there will be an area of rain and a few thunderstorms. They look to come through between midnight and 7am and the bulk of the rain will pass to the west and north of coastal areas. Then the front will pass offshore and most if not all of the rain should be gone by day break.

Once we get through tonight's cold front we should be home free with one minor interruption over the weekend. High pressure builds into the Norhteast Wednesday and Thursday. This is going to suppress Hurricane Idalia which will hit the Florida big bend as a category 3 and possibly even a category 4 hurricane Wednesday. It will the move along the Southeast coast of the US as a strong tropical storm and spread heavy rain northward to North Carolina. However the high will suppress Idalia and keep the storm from moving further north and turn it to the east off the North Carolina coast.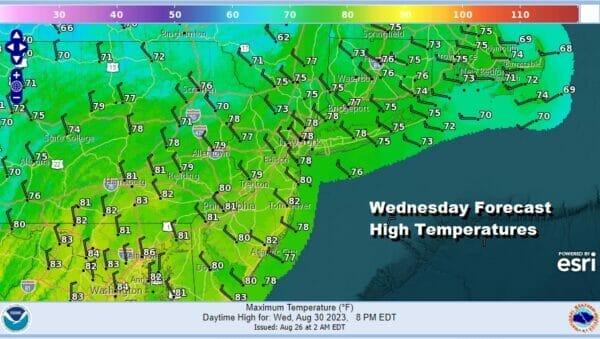 Weather conditions will improve Wednesday with lowering humidity, a freshing northwest wind and developing sunshine. Highs will be in the upper 70s to around or just over 80. Thursday looks like a good day. Other than some high clouds from Idalia that might spread far enough north to veil some of the sunshine it should be mostly sunny overall. Highs Thursday will be in the refreshing low and middle 70s with low humidity.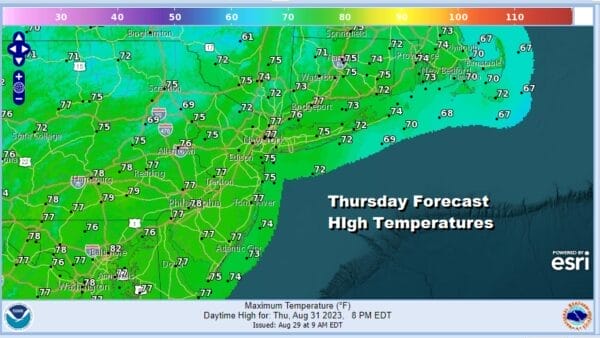 Friday continues the nice weather with sunshine and highs in the 70s. As mentioned earlier the one minor interruption will come overnight Saturday night and early Sunday morning when parts of the area could see a shower or thunderstorm as an upper trough passes. Otherwise Saturday will be a fine day with sunshine and highs in the upper 70s to lower 80s. Sunday dayside will be dry with sunshine and it will turn very warm and more humid with highs in the 80s. Monday Labor Day is looking very warm to hot in some places with sunshine, no rain, and highs in the mid 80s to around 90 degrees. It looks like we will have a fine finish to the summer vacation season.
MANY THANKS TO TROPICAL TIDBITS FOR THE USE OF MAPS
Please note that with regards to any severe weather,  tropical storms, or hurricanes, should a storm be threatening, please consult your local National Weather Service office or your local government officials about what action you should be taking to protect life and property.
(Amazon is an affilate of Meteorologist Joe Cioffi & earns commissions on sales.)