Major Atlantic Storm Thursday Offshore Impacts Arctic Air
Major Atlantic Storm Thursday Offshore Impacts Arctic Air
There is no question that a major storm is going to develop Wednesday night & Thursday along the Atlantic seaboard. All the models have it. The upper air supports it. The impacts on our weather are obvious on the Arctic cold in that it will bring the worst of it Friday and Saturday. Saturday morning in particular will be the coldest day of this stretch that began back on Christmas. We will see much of our area from Eastern Pennsylvania to New Jersey & Southern New England at or below zero Saturday morning. Even Friday morning will be brutal with lows in the single digits to below zero. How cold will depend on any additional snow cover and that is the big question that is left to be answered.
MAJOR ATLANTIC STORM EUROPEAN MODEL JET STREAM THURSDAY 01042017
The European upper air jet stream shows the forecast problem. It would be easy if we had a full phased upper trough but we don't. Instead we have a ton of northern energy interacting with separate features from the southern half of the jet stream. It appears that the upper trough energizes the coastal low offshore and keeps it well offshore. Normally this would be a no brainer. Storm well offshore means no snow with the low far out to the east. However the issue remains complicated. The northern upper trough seems to hang back on the European model which develops and pulls precipitation back unusually far to the west. This idea also shows up on the Canadian model and to a lesser extent the GFS model.
MAJOR ATLANTIC STORM CANADIAN MODEL THURSDAY MORNING
The models may also not be handling the southern energy well and that complicates matters even further. Right now all the models suggest that snows will be confined to coastal New Jersey to Long Island & Connecticut eastward. The European pulls the back edge of snow to Eastern Pennsylvania but it would keep the heavier snow well to the east.
All of this suggests to me is that with respect to snow, the situation is very muddled at this point. We are dealing with a rather unusual situation here with unprecedented arctic air so we may be wise to expect an unusual outcome. I would not expect the situation to become clear for another few days yet if at all until the last minute.
MANY THANKS TO TROPICAL TIDBITS FOR THE WONDERFUL USE OF THE MAPS
GET JOE A CIGAR IF YOU LIKE!
FiOS1 News Weather Forecast For Long Island
FiOS1 News Weather Forecast For New Jersey
FiOS1 News Weather Forecast For Hudson Valley
NATIONAL WEATHER SERVICE SNOW FORECASTS
LATEST JOESTRADAMUS ON THE LONG RANGE
Weather App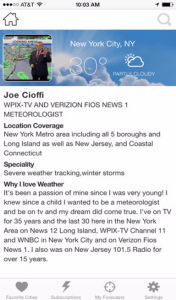 Don't be without Meteorologist Joe Cioffi's weather app. It is really a meteorologist app because you get my forecasts and my analysis and not some automated computer generated forecast based on the GFS model. This is why your app forecast changes every 6 hours. It is model driven with no human input at all. It gives you an icon, a temperature and no insight whatsoever.
It is a complete weather app to suit your forecast needs. All the weather information you need is right on your phone. Android or I-phone, use it to keep track of all the latest weather information and forecasts. This weather app is also free of advertising so you don't have to worry about security issues with your device. An accurate forecast and no worries that your device is being compromised.
Use it in conjunction with my website and my facebook and twitter and you have complete weather coverage of all the latest weather and the long range outlook. The website has been redone and upgraded. Its easy to use and everything is archived so you can see how well Joe does or doesn't do when it comes to forecasts and outlooks.
Just click on the google play button or the apple store button on the sidebar for my app which is on My Weather Concierge. Download the app for free. Subscribe to my forecasts on an ad free environment for just 99 cents a month.
Get my forecasts in the palm of your hand for less than the cost of a cup of Joe!