Major Atlantic Storm Forecast To Bring Another Surge of Brutal Cold Air Late Week
Major Atlantic Storm Forecast To Bring Another Surge of Brutal Cold Air Late Week
The Arctic cold remains front and center. We have been below freezing since late Christmas Day and many parts of our area have seen 3 or 4 days in a row with temperatures that did not get out of the teens. That is indeed a rare occurrence. This may be the coldest outbreak in the Eastern US in over 70 years and it continues all this week. The latest Arctic surge is coming in Sunday and will take us into Wednesday morning. A third arctic surge follows and it arrives Thursday night and lasts into next Sunday morning. It is the time in between that is the big question and the attention is going to continue to be focused on a developing major Atlantic storm. The primary function of this storm is to draw the third arctic surge southward from Eastern Canada. Unlike the prior two surges which have come in from our Northwest cover the Plains and Great Lakes, the Arctic air for late next week will primarily effect the Eastern US to the Eastern Great Lakes southward to the Middle Atlantic States. Our area stands a good chance of seeing temperatures near or below zero for a couple of days. I suspect that the 0 degree line on the map below for next Saturday morning will likely be moved further south.
SATURDAY JANUARY 5 2018 FORECAST LOWS
It isn't often we see a set up like this but a deep trough in the Eastern US will be drawing that cold air straight southward. To the northeast by Friday night will be a major Atlantic storm near New Foundland. How it gets to New Foundland is another matter entirely.
We have discussed the idea of a major Atlantic storm developing but please be advised that a major storm does not mean that we will see anything other than cold dry air behind it as it stays mostly offshore and that still remains the more likely outcome though weather models from today are making forecasters somewhat nervous.
We go back to the European model from two days ago which painted a rather dynamic look to the trough in the Eastern US which would have resulted in a snowstorm here before bitter cold air arrives. The problem however were the multiple puzzle pieces and how and if they would come together.
You can see on the map of the Ensembles which are basically all the different variations of the GFS. The small numbers show the lowest pressure and position of each variation with the mean position. This would literally be an offshore track with impacts perhaps confined to coastal areas of New Jersey, Long Island and Southeast New England.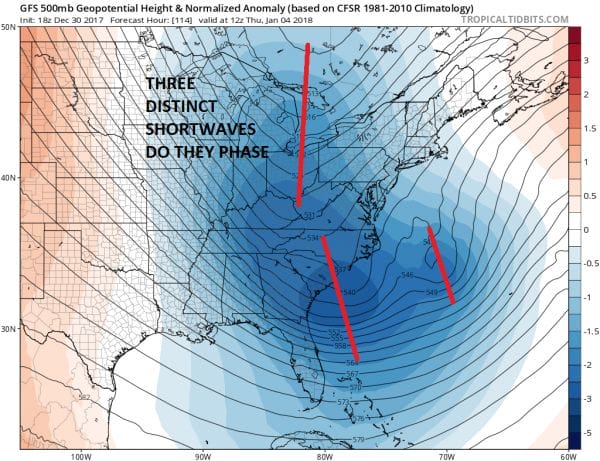 The forecast problem involves three distinct short wave troughs and if and how they phase with each other or does one kick out the other. Today's runs were more dynamic and there is still room for models to maneuver in either direction. It is about timing of all these gears as to whether this is an offshore system and nothing more or does it become a heavy snow producer from New Jersey to Southern & Coastal New England?
Let me be clear. The vast majority of models continue to favor an out to sea solution with perhaps just a minimal impact to the coast. Let me also be clear that everything remains in a state of flux at the moment. For anyone to say that we have anything imminent 5 days away is being nothing short of grossly irresponsible.
MANY THANKS TO TROPICAL TIDBITS FOR THE WONDERFUL USE OF THE MAPS
GET JOE A CIGAR IF YOU LIKE!
FiOS1 News Weather Forecast For Long Island
FiOS1 News Weather Forecast For New Jersey
FiOS1 News Weather Forecast For Hudson Valley
NATIONAL WEATHER SERVICE SNOW FORECASTS
LATEST JOESTRADAMUS ON THE LONG RANGE
Weather App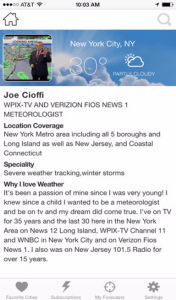 Don't be without Meteorologist Joe Cioffi's weather app. It is really a meteorologist app because you get my forecasts and my analysis and not some automated computer generated forecast based on the GFS model. This is why your app forecast changes every 6 hours. It is model driven with no human input at all. It gives you an icon, a temperature and no insight whatsoever.
It is a complete weather app to suit your forecast needs. All the weather information you need is right on your phone. Android or I-phone, use it to keep track of all the latest weather information and forecasts. This weather app is also free of advertising so you don't have to worry about security issues with your device. An accurate forecast and no worries that your device is being compromised.
Use it in conjunction with my website and my facebook and twitter and you have complete weather coverage of all the latest weather and the long range outlook. The website has been redone and upgraded. Its easy to use and everything is archived so you can see how well Joe does or doesn't do when it comes to forecasts and outlooks.
Just click on the google play button or the apple store button on the sidebar for my app which is on My Weather Concierge. Download the app for free. Subscribe to my forecasts on an ad free environment for just 99 cents a month.
Get my forecasts in the palm of your hand for less than the cost of a cup of Joe!